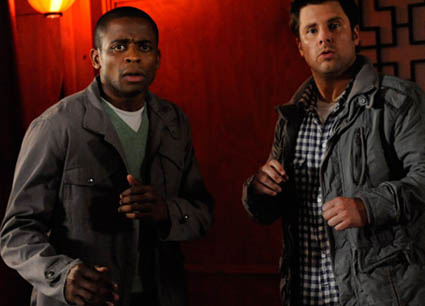 Here are some of my favorite Psych quotes from the premiere on Wednesday night; thanks, Keith, for the first one!
Henry: Are you familiar with the term "persona non grata?"
Shawn: Why are we talking about food?
Shawn: I wanted a girl.
Gus: He's the only one who would take the job, Shawn.
Shawn: What does that say about us?
Shawn: Good Cop/Bad Cop.
Gus: Who's bad cop?
Shawn: You. You're the unscrupulous penny-pinching boss with a chip on your shoulder and mommy issues. I'm the nurturing, confidante type who's like, "Dude, Gus is a jerk, but I've got your back. Together we'll take that sucker down."
Shawn: You buried my Easter eggs five feet underground.
Henry: And, I left loose dirt to indicate a fresh dig.
Shawn: Yeah, under a camouflage tarp covered with bricks and broken glass.
Henry: That was the giveaway!
Shawn: This is my partner Jonathan Jacob Jingly Schmidt.
Mr. Chang: Are you saying his name is John Jacob Jingleheimer Schmidt?
Shawn: That's correct, sir. We used to share the name. I changed mine because of all the people shouting when I went out.
Chief: I don't remember calling you, Mr. Spencer.
Shawn: Didn't have to, Chief, this case called me.
Gus: It called collect.
Shawn: That's right, which was odd because I'm also on Twitter and the cases usually tweet me.
Shawn: And just what are you doing here?
Lassiter: The mayor asked to see me.
Gus: Clearly, we don't believe that.
Shawn: Please don't say that to Gus or he'll tell you that Michael Jackson is not dead.
Gus: He learned to fake his death from Lisa Marie.
Shawn: Which implies that Elvis is still alive.
Gus: Elvis died two years ago. Is there no end to your gullibility? I told you that two years ago. He was a cashier in a shoeshine store.
Gus: Triads?
Shawn: Athletes.
Lassiter: Chinese gangs.
Shawn: Athletic gangs with Chinese men.
Lassiter: There are different gangs within the triads. What are we talking about? Golden Triad? The Dragon Triad?
Shawn: Regular. I think we're primarily interested in medium. Venti.
Gus: Venti is large.
Shawn: Well, then not Venti.
Ken: You guys aren't here to pay me for my last day?
Shawn: I believe we did pay you.
Gus: We didn't pay him anything.
Shawn: We paid him in gratitude and life lessons.
Shawn: Ken, don't think of it as not being paid for your last day, think of it as a surprise two year vacation.
Gus: Unpaid.
Shawn: We will hire you back.
Gus: Someday.
Shawn: Probably not soon, though.
Ken: Why are you guys here?
Gus: We need information on counterfeiting Hong Kong coins.
Shawn: And, Chinese mafia.
Gus: And, we need you to explain the ending of Crouching Tiger, Hidden Dragon to us.
Ken: What? You guys think because I'm Asian I'm supposed to know all that stuff? That's borderline racist, man.
Shawn: Racist? I hardly think so. Inappropriate?
Gus: Yes
Shawn: Insulting.
Gus: Sure.
Shawn: Stereotyping.
Gus: Sure.
Shawn: Not racist.
Gus: Maybe a little racist.
Gus: Crazy? You wanna know crazy? I sued 300 businesses last year alone. I sued a hot dog cart and got everything but the wheels and the buns, which I won in the civil case two months later.
Shawn: Gus, I kicked a board in half.
Gus: No you didn't.
Shawn: You're right, I didn't, but it splintered.
Shawn: We're not with this guy.
Gus: We never even met.
Shawn: Actually, we just now met him.
Gus: After we broke in.
Shawn: Accidentally, broke in.
Gus: We fell through a window, which, technically, isn't breaking in.
Shawn: Let me start off by saying I love ping pong, and General Tso's Chicken, and your version of checkers. I find your fire drills to be immensely entertaining, David Bowie's "China Girl."
Gus: The naked version.
Shawn: That goes without saying.
Gus: Shawn, get on with it.
Shawn: I am endearing myself to him.
Gus: Stop endearing.
Shawn: Your son wants to start a war between the triads — Tenno — the mean one. Maybe you have your own way of differentiating, but for me, personally, I think he's the meanest. Maybe it's the tattoo … just the general demeanor … the use of brow … sometimes you get a vibe about someone.
Photo Credit: USA Network