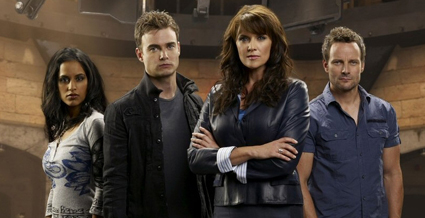 Overview - Season 2 began with the two-part premiere, "End of Nights," arguably the most thrilling hours of television Sanctuary has ever produced. The second half of the premiere, in particular, made me think that Sanctuary had finally blown the hatch — but sadly, it was not to be. The Cabal story line was abruptly swept aside in favor of standalone episodes like "Hero" (the superhero episode) and "Pavor Nocturnus" (the post-apocalyptic episode). Super Ashley, with her vampire teeth and wolverine claws and mommy issues, was replaced — far too easily — by an awkward, unconvincing newcomer, Kate Freelander. And the impact of Ashley's death, which should have pervaded the season and taken it to much darker places, especially when it came to Helen's character development, was explored in only two episodes, "Eulogy" and "Next Tuesday."
There are bright spots in season 2, including fun guest appearances by Syfy stars such as Michael Shanks ("Penance") and Erica Cerra ("Veritas"); greater exploration of fan favorites Tesla ("Sleepers"), John Druitt ("Haunted"), and Henry ("Fragments"); and the introduction of the ginormous sea arachnid Big Bertha in a colorful, country-hopping two hour finale, "Kali," which I prefer to call "Indiana Jones and the Spider of Doom."
In short, season 2 is a mixed bag, falling far short of my expectations after the high point the series reached with "End of Nights" Part 2. It suffered mostly from failure to follow through with the Cabal/Ashley story arc.
Episode Commentaries – All 13 episodes have commentary tracks, featuring Amanda Tapping, Damian Kindler, and Martin Wood. I haven't listened to all of the commentaries, but as far as I can tell they are completely different from the podcast commentaries on the Syfy website. Although they sometimes talk over each other, I enjoy the boisterous back-and-forth between this goofy trio. They keep up a steady stream of conversation. (I hate DVD commentaries that have long stretches of silence … it's like, hello? Are you still awake?)
Sanctuary International - The cast and crew discuss their season 2 "mandate" to make the Sanctuary network global. They wanted the show to appeal to people in other countries, since we all have stories about mythical creatures and monsters.
Amanda Tapping Directs "Veritas" - The cast and crew (and Amanda herself) talk about Amanda as director. It's a love fest. Amanda is her super-cute self. Agam Darshi adores her. And Ryan Robbins is annoyed that she is so good at everything.
Anatomy of an Episode: "Next Tuesday" – If you'd like to know how an episode is developed, you may enjoy this in-depth look at how "Next Tuesday" (i.e., the helicopter in a water tank episode) came about. As we all suspected, they were trying to come up with a "bottle" episode, just happened to have a helicopter available, and wrote the story for the set instead of starting with a story first. Anyhow, I found this video quite interesting and even amusing (there are some very funny bits).
Visual Effects - This featurette focuses on the stuff that Sanctuary is known for: CGI. We see scenes from "Hero" being shot against green screen, and learn about the design of the little rabbit-like abnormal from "Eulogy." But most of the emphasis is on the green screen effects. They don't go into too much detail in this short featurette, but you can see the before-and-after of a variety of different shots.
Sanctuary for Kids - Amanda Tapping describes her charitable foundation in this brief message.
Comic-Con – You may have already seen more complete versions of this on Hulu and/or YouTube. This is basically an edited version of the Sanctuary panel discussion at Comic-Con, bookended by some behind-the-scenes footage. The audio is not great, and if you don't like shaky cameras then watch the full version on Hulu instead.
Will Vision – These videos are shot from Robin Dunne's perspective. The first shows Robin getting his Edward Cullen-esque hair and makeup done, and then getting dressed in front of the camera. He takes us on a tour of the studio and the sets (which is not that exciting because, well, it's mostly green screen). He goes around interrupting people at work, and even moons the camera at one point (it's blurred, don't worry). We watch Amanda direct a scene. We also see MW, DK, and AT thanking the crew after principal photography wraps. They all get quite emotional. Loud sniffs can be heard.
The second featurette is Robin Dunne's video diary of the Sanctuary team's trip to Tokyo — pretty interesting. We see them coming up with shots, scoping out the city for good locations, and acting like 10-year-olds.
Dancing in Mumbai – This is an entire featurette on the Bollywood dance number in "Kali" Part 2. It's more entertaining than the blooper reel — the beginning is mostly the cast and crew (and Robin himself) joking about how bad Robin is at dancing. But we also get the story behind the concept, see how the studio parking lot was transformed into a Mumbai slum, and compare Robin's rehearsal footage side-by-side with the actual dance.
Blooper Reel – Not laugh-out-loud funny. This is mostly Bigfoot slapping people, Robin Dunne acting goofy, and Amanda Tapping giggling and smiling her irresistible grin, causing Robin to ruin dozens of takes. My favorite part is Robin fighting a billowing curtain in slow motion.
Slideshow – A gallery of about 25 production photos — nothing extraordinary here.
Disclosure: This review is based on a commercially available copy, provided complimentary to CliqueClack TV by E1 Entertainment for the  purpose of review.
Photo Credit: Syfy