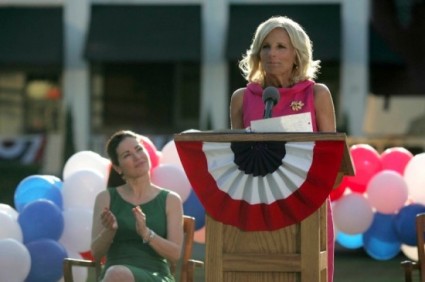 It's not every day that a television series means more than the sum of its parts. Well, almost since its premiere we've known that Army Wives has been making an impact — both in ratings as well as literally — with military families. But last night, with an appearance by Dr. Jill Biden, wife of Vice President Joe Biden, that truth became all the more clear.
Dr. Biden is known for her advocacy in support of military families, mostly through her association with an organization called Delaware Boots on the Ground. Her appearance on Army Wives last night brought home just how significant the nuanced message of the show is — supporting our troops starts here at home.
In a performance that wasn't always smooth, but was a job rather well done nevertheless, The Second Lady (are you telling me that's not a degrading title?) kicked off the Fun Run, and held an informal meeting with some of the more senior wives, our group included. The conversations were kind of cheesy, but I think it added a lot of credibility to the show (not that it was lacking before, but still).
Unfortunately, that was juxtaposed with a visit by Denise's sisters, neither of whom were pleasant or enjoyable to behold. I totally didn't understand the point of the entire incident, save for it telling us that Denise sees her friends more as sisters than her real sisters. Surprised?
I was confused as to whether the Marine runners were Marines, or Marine wives, but the bet with the Army wives was cute … their singing of the Marine Hymn was not. Ouch. That sister on the stretcher thing was a total rip-off of the Sara Tucholsky story, the Western Oregon softball player who was carried by two of her opponents when an injury prevented her from rounding the bases following a home run. And it was a bad rip-off at that. Was there some team pride message in there that I missed?
Why is Chase seeing Roland for therapy? Are there no boundaries on the show whatsoever? Back in season one when he was still working at the hospital, it was illicit for Roland to have checked in on the soldier under Joan's command who'd become mentally unstable. Now he's Jeremy's therapist as well as Chase's? Both relationships scream conflict of interest, and while it keeps the plots in the family, it's dangerous as well. And unethical.
Michael's request for a powwow with the local Afghani heavies is clearly setting him up for danger. And I assume that Frank will be with him, so both Denise and Claudia Joy are likely looking at a hiatus with an injured husband hanging over their heads. Might Trevor and Jeremy's group be assigned to their mission as protection? Maybe. Then it'll be everyone in harm's way … hey, it could happen.
Just a note for you on next week's episode — it's set to guest star Gabrielle Union, who'll be cast alongside Pamela in what is being referred to as an exploratory pilot for their new show. Union will play Pamela's police partner, although how they're going to shift the action to Atlanta, where the new show will be based, I'm not sure. If it's good, it'll be hard to complain, but I haven't enjoyed Union in anything other than her 2001 appearance on Friends. That doesn't bode well for her or the show.
"Mom thinks a cursor is someone who swears." – Denise's sister
Photo Credit: Lifetime