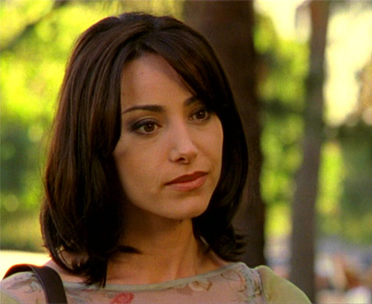 TV writers are ruthless, ruthless people. They will murder beloved characters for shock value and then pat themselves on the back for being so brave. That's when the fans start rioting, and the letter-writing campaigns begin. Ignoring behind-the-scene issues, here are a few characters that were stupidly killed off their shows:
Elizabeth Weir – Stargate Atlantis never truly recovered from losing her, not even with sci-fi veterans Amanda Tapping and Robert Picardo attempting to fill her shoes.
George O'Malley – I don't even watch Grey's Anatomy anymore. Sure, George was not the greatest character on the show — he all but disappeared in his last season, but that was because they kept introducing stupid new characters just so everyone could shuffle romantic partners again.
Ashley Magnus – Oh, the uproar when Emilie Ullerup's character was killed off Sanctuary and replaced by a new "tough chick" – just when Ashley was getting interesting (i.e., turning into a supervillain with awesome powers)!
Amber – She was a cutthroat bitch. But she was also the most interesting of House's new recruits. Thirteen? Lame. Taub? Weak. Kutner? Randomly suicidal. Amber's death made for an interesting episode of House, but imagine the fireworks if she had remained on the team instead of Thirteen!
I asked the CliqueClack writing team to nominate some other characters who never should have been killed off their shows. Here's what they had to say:
BOB: Jenny Calendar from Buffy! Such a great character, cut down before her time. I would have loved to have seen a lot more of her and Giles together.
ANNIE: Yes. I agree on Calendar. And for the same reason as Bob's. Not because she was the hottest or anything.
BOB: Maybe Wild Bill from Deadwood? Stupid historical facts! There's also a great one in The Wire, but I feel like no one has watched that show, everyone should, and I hate to spoil it…
IVEY: I'd add Leo McGarry (West Wing) if John Spencer's passing hadn't necessitated his death. Oh, and Kenny from South Park.  Just sayin'.
MICHAEL: For me, Mr. Eko was one of the most intriguing characters on Lost. I don't think his full potential on the show was ever realized. There could have been so much more revealed of him and his walking stick of mystery. Curse you, Jeffrey Lieber, J.J. Abrams and Damon Lindelof … !!!
DEBBIE: I agree on Calendar, but also nominate Doyle from Angel.
IVEY: Of the entire Buffy-verse, my vote would be for Fred.
BRETT: I would argue that the death of Doyle was actually one of the better choices in the Buffy Universe, but that's just me. As for a character I would have preferred to see not leave/die, I'd go with Henry Blake on MASH.
DEBBIE: OK, then let's argue (in a friendly, team-like sort of way)! I know what you're going to say and I see that point, but Doyle and the relationship he had with Angel was awesome, and I could have done with less Cordelia. She didn't need to have the powers and the whole disaster when they had to write in her maternity leave would have never happened. Doyle brought out the good in Angel and helped him brood less and use his soul for redemption with a purpose.
BRETT: I am curious to hear what it is you knew I was going to say, because I suspect my actual answer isn't quite as exciting as your imagined one. Looking at Angel as a whole, the Doyle period really is one of the weaker spots in the run. I never felt like he really fit the show, and after he was gone, I liked things a lot more. And unlike you, I could always use more Cordelia. (Of course, this comes with the caveat that far and away the worst thing to ever happen to Angel was teenage Connor. Jesus tits, what a clusterfuck that entire story was.)
DEBBIE: Just what I knew you'd say! I think a lot of people feel that Doyle was weak but I don't agree. You just like Cordelia because she has big boobs! She was part of the reason the teenage Connor storyline was so horrible. Angel really had its ups and downs through the five seasons. When it was good, it was really good, but the stinkers were nearly unwatchable.
IVEY: I discount Doyle in this case because 9 episodes isn't enough to get invested in a character the way people have in other characters in this conversation.
All right, people, it's your turn to be heard! Is there a character whose death really pissed you off? Someone we forgot to nominate? Vote in the poll, and leave a comment. It's time to vent!
Photo Credit: The WB