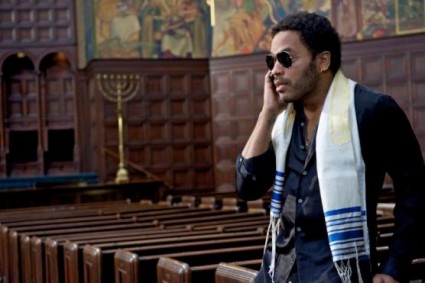 I don't think I'd be able to specifically articulate the reasons, but I actually enjoyed last night's episode of Entourage. I found it to be productive, allowing us to make good progress on what remain a bunch of uneven stories.
Vince continues to be a disaster, and I really am disappointed there. I don't believe that either Sasha Grey or Scott Lavin could have influenced him so significantly in the short amount of time that he's known them. Nor do I think that his stunt mishap would have traumatized him so. Think back to early Vince — he loved to act. Whether or not he's actually good at it is a different question (unlike many I think Adrian Grenier has a ton of talent), but he loved to act. He loves to screw around, but he's always known when to pour his energy into the work. Coke before a big meeting? Not Vince. And apropos of nothing … was that really Chris Bosh at the bar?
I'm still scratching my head over how Lizzie's existence is being substantiated, because she was never anything professionally on the show. With so many ideas to choose from, I wonder why the writers decided to bring Ari down this way. It's beneath him.
That being said, his "gossip" that Howard Stern would be hosting Jeopardy was funny. Was that really Carrie Fisher at the gossip rag? And Ari's sincerity when talking to Lizzie about his family was sweet, and an unsurprising side of him that we've nevertheless rarely, if ever, witnessed. I really enjoyed that exchange between them.
Bringing Dana Gordon (Constance Zimmer) into the story is always good for a laugh, as she, much more than Barbara (Beverly D'Angelo), is a great sparring partner for Ari. I always enjoy Ari and Dana's quid pro quo deals (remember Cannes?), and this time it did not disappoint, what with Dana wanting Lenny Kravitz shirtless and strumming his guitar in a movie.
What sucks is that the NFL went bye-bye in a quick call from Jerry Jones. Is Ari's trajectory to pick up the pieces of his life after the truth about him (known ALL over town) is revealed? I thought for sure it was NFL or bust for the super agent. How very … mundane.
Is Billy living at the house? Who knows, but I love having him around. "Johnny's Bananas" was a cute idea; I just wonder how long it will take for Drama to come around to appreciating it. Maybe the Family Guy boys are due for a cameo to convince him.
Eric's doing nothing, but that's better than Turtle, who's doing God knows what. His over-ambition is a nice change, but what kind of a ridiculously stupid story does he have going for him? Oh, he's being too over-confident about this project he's involved himself in. Uh oh!
And yet, as Entourage is prone to do, they added back some good to the bad — this time in the form of the calls Turtle had to make to round up cases of tequila. The quick flashes of celebrities could give you whiplash (and why the hell did he send so many cases to everyone?), but it was cool to see Mark Wahlberg and Diddy, and funny that they both tried to have Turtle convince Vince to invest in Vitamin Water. I would have loved to see James Cameron and Pauly Shore return as well, but that wasn't to be last night. The best call-back would have been a blubbering Turtle calling Matt Damon for the tequila recall … when last we saw him in the season six finale, Damon was leaving messages for Vince about Vince's missing charitable donation. Imagine having to go back to that guy for your booze.
Photo Credit: HBO