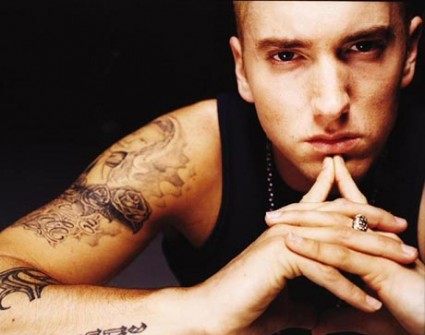 Vince's immortal words to Eric — "My best friend I can't fire. But my manager…." Eric supporting Vince's decision to drop out of "Aquaman" even as he disagreed with him. Vince agreeing to have Billy Walsh direct "Medellin." The Cannes debacle. The Queens street scene where Eric and Vince parted ways. The Matt Damon/LeBron James airport ambush. These are some of the indelible moments I'm left with from season finale's past of Entourage. And if I had to add one from last night, it would be Eminem beating Vince silly at a party.
But while my list includes moments I keep with me, for the most part I enjoyed the seasons, episodes, and arcs that preceded them as well. This time? Not so much.
Vince's spiral continued, and after his romp with Sasha last time in a restaurant bathroom he never made it home. Which left Drama and the boys worried, and Ari's son out of a celebrity to throw out the opening pitch at his little league game (what?).
Of course Vince was actually around, and he popped up at the photo shoot for the cover of Sasha's new movie box (funny how that happens first with straight-to-video porn). The inevitable fight and breakup aside, how was Vince pacing back and forth without being noticed? A coked-out movie star on the set of a porno would be something to call the paparazzi about, no?
Vince's intervention would have been funny if it wasn't so pathetic. The best disaster of an intervention I've ever seen was when Christopher's (The Sopranos) left him with a hairline fracture. At least I laughed some at that one.
But it was really just the fisticuffs with Marshall Mathers that was worth tuning in for in Vince's tale. I have no idea who Minka Kelly is, but I do understand how inappropriate Vince was acting toward her. And after Drama mentioned Jordan Farmar and Kevin Love being the "only reasons" he didn't get into the fight more, I checked back to see if I could spot them. I saw Love (weird that he was used in this context after actually appearing on the show before), but I couldn't make out Farmar.
Eric had a right to be pissed about Sloan's father Terrance (Malcolm McDowell) taking him to dinner to discuss a pre-nup, but was he really so surprised about it? Aside from what we (and he) know about Terrance already, I would imagine it's a pretty typical thing given Sloan's and Eric's vastly different stations in life. It just should have come from her. It was a huge mistake for him to let it affect his feelings toward Murray.
Ari's problems make no sense. Mrs. Ari learned nothing knew about him, yet she's ready to leave him? And suddenly he's best friends with John Cleese? I enjoyed Ari's fake 180 with Mrs. Ari's sister (Illeana Douglas) and his attempts to buy her off, but that was just all dumb. An okay spot by Christina Aguilera, and I loved Cleese's girlfriend asking Christina to listen to her demo while she was standing up at the microphone.
Then there was Turtle. Once again he brought most of the best names to the game — the calls to Ryan Howard and Drew Brees (was he doing a photo shoot with a duck?), and the return of Mark Cuban. But it's dumb, dumb, dumb, dumb, dumb. The fact that anyone thinks it logical for Turtle to be chasing down $20 million is absurd. I know he feels responsible — and that he needs to continue paying for the pleasure of Alex's company — but when you and I are faced with the impossible we can usually recognize it. Do the writers and the actor himself not see it?
I don't know about you, but as much as I love Entourage this is one season I'm glad to put behind me. The problem is that these stories aren't going anywhere, as it's clear where the series is heading for the remainder of its life — Vince in jail and/or rehab, Eric at a crossroads with Sloan, Ari trying to win back the Mrs., Turtle shot dead on the side of the road, and Drama launching his successful animated series … actually, might the grand series arc be about big bro eclipsing little bro in the spotlight?
Whoa. This just got really interesting.
Photo Credit: celebridiot.com