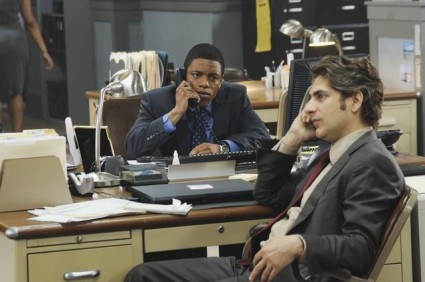 Detroit 1-8-7 definitely relies on Michael Imperioli. Not only because his Detective Louis Fitch is the main character. That's obvious. But because he's the most experienced and talented member of the cast. James McDaniel being the only exception.
Last week, I focused on the depiction of the city of Detroit on the show. And while I did notice many references to the city and its neighboring areas this week, Detroit 1-8-7 could really be filmed anywhere. Most scenes are shot in squad rooms, hospitals, morgues or courthouses. Occasionally, a wide or overhead shot of downtown can be seen. I only noticed one scene towards the end, where James McDaniel and his partner are truly standing on the streets of the city. And I could only tell because of the People Mover and the Fisher Building in the background. It's most certainly not like say NYPD Blue with the cameras, actors, crowds and taxis buzzing around the "real deal."
That may be because filming in the streets is so expensive. Cop dramas are the most costly, budget-wise. Or maybe the producers know they can just get away with it. Who knows? But to market this as a nitty gritty show about Detroit police officers isn't really fair.
But back to Michael Imperioli. Who didn't adore him as the conniving drug addict murderer Christopher Moltisanti on The Sopranos? I know I did. I actively hated him. In a good way. Especially when he sat on his girlfriend's dog and killed it. This guy is a great actor.
And he's not bad on Detroit 1-8-7 either. He's just not Christopher.
Detective Louis Fitch is a good guy. A very almost unbelievable good guy. He's slowly mentoring his rookie partner. He bucks the Administration. And he pulls on the old heart-strings with his unrequited crush on fellow officer Ariana Sanchez. See, he can't have her because she may or may not have something going on with her partner. I know!
Good golly. Fitch's life is complicated. And it doesn't get any easier, considering he's practically the entire brains of the Detroit P.D. He's solving crimes right and left, talking down hostages and holding press conferences where he is hailed as a hero. (Of course during said conferences, he is humble and gives away the credit.)
Yes, a very busy and likable guy. But not Christopher.
The show's not bad, as cop dramas go. It moves quickly, and contains multiple story lines. The murders aren't all that difficult to figure out, but hey — it zips right along. I can stand it.
It's just … whenever I see Michael Imperioli I get a pang. For The Bada Bing. And Tony. Jewelry, Carmella, Janice and Uncle Junior. You know, the good old days.
Let's just say, change is difficult for me.
Photo Credit: ABC/GUY D'ALEMA