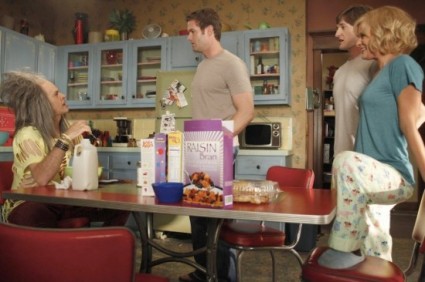 I am just loving the Fox show Raising Hope more and more. Not only is the casting perfect, the writing is top notch. And I always consider writing the key to a show's success. Year after year when I watch the acting awards where the performers are celebrated, I'm always frustrated that we as a television (or movie) audience don't give more kudos to writers. I mean, after all … if you don't have a solid script, it really doesn't matter who you've got on the screen.
Raising Hope seems to have hit the sweet spot on all accounts. Created by Greg Garcia (My Name Is Earl), the dialogue is witty, biting and sweet at the same time. I'll give you an example. This week, baby Hope is driving his dad Jimmy (Lucas Neff) a bit bonkers, because … well, babies can be boring and frustrating. Jimmy feels guilty about his negative thoughts about the baby and tells his Dad (Garret Dillahunt). The characters are always painfully honest on the show, so Jimmy's Dad throws his arm around him and tells him, "I was miserable when you came along. I hated you." And Jimmy replies, "Really? You're not just saying that to make me feel better?"
And as you fans of Earl know, the writing of Greg Garcia is filled with these sorts of smart-ass but loving comments. We can see that deep down the family accepts and loves each other, but it completely appeals to my sense of sarcasm in the way that they do it. And also, this show reminds me a lot of Earl in that the characters grow and learn something each week. With Earl's character, it was his list. With Jimmy and his family, they learn about each other through their experiences with Hope.
Take this week. We learn that Jimmy's Dad has always wanted to rock. (He only realizes this as he literally "rocks" himself to calm his nerves.) So in flashback, we see him audition for Smokey Foley's band (Jason Lee). I have to say I loved the Smokey's requirements for a new guitar player … fit into the pants, be able to carry 180 pounds of dead weight to a hospital, and shave your body from the neck down so no one gets crabs. See what I mean? Priceless writing!
Anyway, Jimmy's Dad originally lost the gig because he had to bring Jimmy as a baby to the audition. Jimmy feels bad about it, and sets it up so his Dad has one more shot to play with Smokey Floyd in the produce section of the grocery store at "Grocery Palooza." And rock! Well, you saw how things went horribly wrong (again due to a baby in the family — Hope). But Jimmy's Dad realizes that Smokey Floyd is kind of an asshole and maybe it was providence that he didn't become a "rocker" after all.
There was a lot of great stuff along the way — like when Jimmy finds his Dad with his head stuck to a freezer shelf due to "sweating and rocking" or Jason Lee's hysterical "Barry Gibb" like hissy fit at the unappreciative grocery store audience.
Suffice it to say, the writers pack so much into this twenty-two minutes, that there's never a dull moment. And the cast keeps up impeccably. I so dig this show.
Photo Credit: Fox