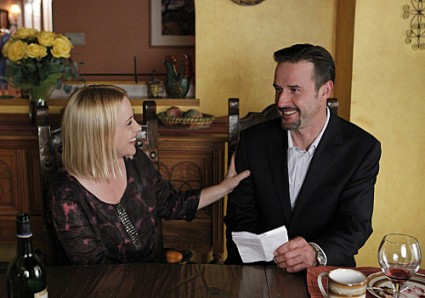 Weird move having David Arquette come on to play Michael "Lucky" Benoit in the last season. Arquette has directed Medium before, but I guess they wanted to get him in front of the camera while they still had the chance. Arquette's appearance was kind of weird in other ways, though, not the least of which was his drunken depressive scene on the bridge at the beginning of the episode. That was a little too "ripped from the headlines" for my comfort, as that's basically what Arquette has been doing in the media ever since his split from wife Courteney Cox was announced.
But, much like Arquette is trying to get his life back together by checking into rehab, Michael is trying to get his life back together by becoming a pharmaceutical salesman. Unfortunately for Michael, success does not come without a price, so his body also happens to be used as a gateway for a dead self-help guru to knock people off of the heart transplant waiting list so his wife can get the heart that she needs to survive. It's always something, isn't it? No wonder our economy is still in the shitter: you can't find a job, and when you finally pull yourself out, there's a damn ghost sticking his metaphorical hand up your ass and using you as a puppet. It's just hard to catch a break.
Luckily, as Allison is vanquishing the self-help guru from Michael's body, he imparts her with some final wisdom and tells Michael that he had it in him all along. So hopefully for Michael, he'll be able to keep his swanky job instead of signing up for another tour of duty with the Army.
Medium is very much feeling like a show in its final season, but never more than this week's episode. Not only did they get Patricia Arquette's brother in there, but Medium Producer Larry Teng, had his lovely wife Lesley Boone (Ed) make a return appearance, this time playing a corrupt campaign official.
Although she was played as the bad guy from the beginning, I kind of loved how she put Bridgette to work. You have to use the resources you have, right? Plus Bridgette had fun and ultimately saved Devolos's campaign by getting his opponent to back off the negative campaigning.
I am sorry that we didn't get to see much Joe in this episode, or even have a mention of Ariel. With time running out on Medium, I kind of want everything in each episode, even though I know that it doesn't make sense. What did you think of this week's episode?
Photo Credit: Sonja Flemming/CBS