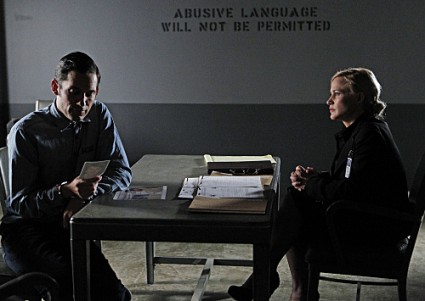 The biggest thing that struck me last night was the wish that we could have had a better buildup to this episode. Yes, there were several elements that were intentionally jarring, but it would have been nice if last week's episode, for instance, could have started the foundation at all. Season 5 was full of two-part episodes, and this finale really could have used an extra hour. As a fan of the show, the cut 13 episode order for Medium's last season hurts the most in this way.
However, given the time frame with which they were working, the writers pulled together a fascinating and unexpected series finale. There have been several episodes during its run where I could call the conclusion 20 minutes in. This was not one of those episode. I honestly had no idea how this was going to end.
But now that we do know, I really like the choice of killing Joe off in such an unexpected way in the very beginning. If they decided he had to go, this was the way to do it. As viewers, we spent an entire hour wondering if what was happening was a dream, and then finding out Joe was alive. That way, when it's revealed at the end that he actually did die in the plane crash, we can feel the jarring confusion and disbelief right along with Allison. I'm sure I'm not the only one whose thought process was something like, "No, he can't, wait, so he was never, hold on. Oh no!"
The unfortunate side-effect of structuring the finale the way that they did was that we didn't get to see a lot of the normal cast members. Marie was in it quite a bit, but she was played by someone else. Seven years is a tough jump to make when you're working with kids. However, if there's one thing that we learned from the Seinfeld finale, it's that a parade of everyone who's ever been on the show doesn't a good episode make.
During the episode, I was kind of annoyed that we weren't seeing more of the Dubois family together, but looking back on it now, they made everything work. We got to see everyone, at least for a moment, without it seeming shoehorned. I would have liked more Lee, but there simply wasn't the time. The long-lost Ariel even got to make an appearance, albeit a long-distance one, so in the end, everybody did come together.
Medium's ending was dark, but as much as it resembled a family drama at times, Medium was always a dark show. As viewers, we want more of the nice family moments that we've come to love over the past seven seasons, but what actually happened — Joe dying after being away for six days and the family scattered about — is much more realistic, and that much more heartbreaking.
In the end, we do get the Joe and Allison reunion though. Allison becomes the woman she was when Joe died (which is interesting, because I don't think that's happened to any of the other ghosts), and they finally get to be together. This is, of course, Medium's version of a happy ending, but it's still pretty heartbreaking.
At the end of the day, Allison, Marie, Bridgette and Ariel all lived for 41 years without Joe. He never met his grandchildren, or his great-grandchildren. While he appeared after he died, it didn't look like he hung around. Allison certainly seemed surprised to see him when she passed. In the end though, the important thing is they did end up together, and that's the closest thing to a happy ending that we're going to get.
Photo Credit: Sonja Flemming/CBS