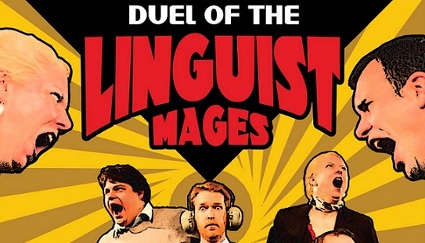 What was everybody doing last week? I know you must have been up to something, because it seems like a whole lot of people weren't watching their televisions. I'm part of the problem, I suppose. I went to Bushwick Book Club, Kidd Pivot's Dark Matters, and Scotto Moore's Duel of the Linguist Mages. (Seriously, click that last link and go read that play. It's awesome. So is this one.) But I wasn't the only one. Week-to-week rises and drops are common, but I stopped counting at 45 different shows that were down in viewers and demo. And that included crazy things like a series low Survivor episode, season lows for all three shows on the ABC Thursday, and the worst adult demo for a Thursday night of original programming NBC has ever had. Yikes.
CBS - There will be a lot of bad news, so let's start with something good. CBS kicked off Criminal Minds: Suspect Behavior (13.06m/3.3) at a very good number. That built on the Criminal Minds (12.85m/3.2) lead-in, and was also the top demo at 10 for the week. Earlier in the night, Survivor (11.16m/3.2) premiered with its lowest rated episode ever. You could blame Idol, I suppose, but I take it as a sign that people are finally fed up with Rob and Russel.
There was more good news to start the week. The Grammy Awards (26.67m/10) were up over last year, and easily the number one program for the week. Monday was fairly solid as well. How I Met Your Mother (9.51m/3.7), 2 ½ Men (14.51m/4.2), and Hawaii Five-O (10.73m/2.8) were all down for the week, but still solid. Mike & Molly (12.92m/3.8), on the other hand, was up. Not a great start for Mad Love (8.74m/3). That's below what Rules Of Engagement has been averaging, and chances are it's headed down from there.
Tuesday, with NCIS (19.4m/3.6), NCIS: LA (16.8m/3.3), and The Good Wife (11.43m/2), was another night that was down, but not really a worry. Much like Big Bang Theory (12.41m/3.7) kicking off Thursday.  Things with $#*! My Dad Says (9.7m/2.6) will start to get very interesting when we see what Rules does in that spot starting this week. CSI (13.29m/2.9) and The Mentalist (15m/3) were among the very few shows that actually saw gains in both measures for the week. The week finished with an all new Friday of The Defenders (8.52m/1.4), CSI: NY (10.62m/1.8), and Blue Bloods (11.11m/1.6)
ABC – There were troubles aplenty for ABC as well, with Desperate Housewives (9.2m/2.7) and Brothers & Sisters (6.27m/1.7) both finding series lows. It again makes me wonder why ABC always seems to schedule new episodes against awards shows. I think that lesson has been learned. Monday started off a little better, with The Bachelor (9.32m/2.9). Castle (8.75m/2.2) took another hit, but does remain ahead of most of the network's other dramas.
As has become the expected result, there was more trouble Tuesday from No Ordinary Family (5.03m/1.5) and Detroit 1-8-7 (5.2m/1.2). Given that the good news was so hard to find last week, it's worth noting that V (5.43m/1.9) was up in both measures. Wednesday was yet another off night. Modern Family (10.57m/4.3) still looked impressive, but The Middle (7.85m/2.3) and Better With You (5.88m/1.8) were both well off the pace. In week two Mr. Sunshine (6.93m/2.6) gave up a huge chunk of that impressive premiere audience, quickly dropping to a very Cougar Town level. And at 10, it really looks like Off The Map (4.33m/1.5) is done for. Finally, Thursday brought season lows from Wipeout (6.02m/1.9), Grey's Anatomy (10.24m/3.7), and Private Practice (6.73m/2.3)
FOX - The Simpsons (5.49m/2.6), Bob's Burgers (4.19m/2.1), Family Guy (5.98m/3.2), and Cleveland (4.75m/2.4) looked a little rough against the Grammy Awards to start the week. And that iffy feeling continued Monday, where House (9.86m/3.4) fell from last week's Superbowl hyped episode. Chicago Code (7.35m/2) fell as well. It will be very interesting to see where the show settles.
Glee (10.53m/4.2) looked solid on Tuesday, but the same can't be said for Raising Hope (5.36m/2.2), which was yet another show to take a tumble last week. Still, that looks much better than week two of Traffic Light (3.49m/1.4). It seems the show is racing full speed to Running Wilde levels. Luckily the network has American Idol (23.2m/8.2 – 22.18m/7.6) to steady the happenings of any week; Bones (9.84m/3.3) took advantage of that boost. The week finished with small gains for Kitchen Nightmares (3.94m/1.7) and Fringe (4.06m/1.5).
NBC – With so many shows taking losses, Chuck (5.47m/1.7) almost looks successful for just holding steady, something The Cape (4.07m/1.2) and Harry's Law (8.51m/1.7) couldn't manage. The Biggest Loser (7.7m/2.7) was down as well, while Parenthood (5.12m/1.9) held its ground. They might have gone to the Minute To Win It (3.64m/1) well one time too many times, placing it against Idol and the Survivor premiere. That didn't help SVU (7.31m/2.2), which was hammered by the Suspect Behavior premiere.
Thursday remains a problem, and one that is only getting worse. The Office (6.41m/3.3) remains solid, tying Bones for second in the demo at 9. The rest of the night is a ratings train wreck. Community (4.11m/1.8), Perfect Couples (3.03m/1.4), Parks & Rec (4.33m/2.2), 30 Rock (4.07m/2), and Outsourced (3.2m/1.5) all find themselves in last place among the four major networks in viewers and demo. And Perfect Couples has the rare honor of actually being beaten in viewers by the CW. Perhaps even worse, Who Do You Think You Are (5.88m/1.3) gets more viewers than all five of those comedies on Friday night.
CW - The little network didn't escape the dark week that was. 90210 (1.37m/.7) and Gossip Girl (1.32m/.7) both looked very rough kicking off the week. One Tree Hill (1.64m/.8), Hellcats (1.58m/.7), Vampire Diaries (3.07m/1.4), and Nikita (2.1m/.8) all saw small gains, but they were all coming off of what was a very bad week. The surprise of the week came Friday, where Supernatural (2.26m/1.1) topped Smallville (2.2m/1) in both numbers.
CABLE - Without a big premiere to talk about this week, my attention is called to Syfy's Being Human. You'll recall that the show marked quite an improvement in the time slot when it premiered, garnering nearly a million more viewers than Stargate Universe had been getting, and nearly doubling the demo. Those numbers have not held up well. Last week, Being Human (1.09m/.4) actually landed on the downside of the last new Stargate Universe (1.09m/.5) episode to air.  In a bizarre twist of ridiculous programming decisions, it's now possible that the remake of Being Human will be canceled before the original.
BASIC
Pretty Little Liars (2.35m/.9)
Greek (.75m/.3)
Skins (.96m/.3)
Lights Out (.7m/.3)
Southland (1.98m/.7)
Justified (2.41m/.9)
Royal Pains (3.89m/1.1)
Fairly Legal (3.22m/.8)
The Game (4.2m/1.9)
Archer (.99m/.4)
Hot In Cleveland (1.92m/.4)
American Pickers (6.48m/2.2)
Pawn Stars (6.16m/2.4 – 6.03m/2.5)
Tosh.0 (2.89m/1.7)
Westminster Dog Show (3.52m/.8)
Face Off (1.17m/.6)
Jersey Shore (7.64m/4)
PREMIUM
Big Love (.99m/.4)
Californication (.52m/.3)
Episodes (.49m/.2)
Shameless (1.01m/.5)
Photo Credit: annextheatre.org