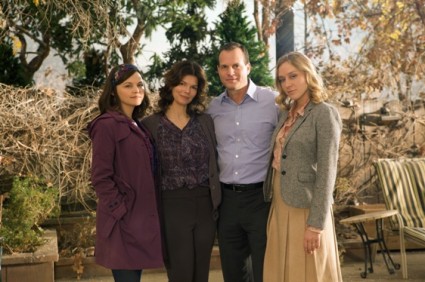 Last week I could still appreciate the cluttered chaos of an episode of Big Love because it at least entertained me. But considering that we're winding down the series I was not entertained by this latest episode, and wondered why-oh-why the writers persist in cramming so many story elements into one hour, some of which stretched credulity to its breaking point.
For example, what was up with the literal destruction of one of the Juniper Creek buildings? Getting authorization for the state to destroy a private, religious compound's building would certainly require wading through a massive quantity of red tape, and would likely take some time before a brand spankin' new state senator would be able to grandstand, in front of a bank of television news cameras, as a building was demolished. The UEB board would certainly fight such a move in court and drag it out for as long as possible. Having the destruction proceed so quickly was so detached from reality that it just irritated me.
And why would Bill be racing over to Juniper Creek to oversee such an unrealistic event anyway when he's facing jail time? Shouldn't he have been focusing on more pressing things given that his days as a free man may be numbered?
Then there was Nicki, who seemed possessed — haunted, really — by her own past, to the point where she seemed monstrous. Not that she's ever been a warm and fuzzy maternal type, but she was acting so coldly toward Cara Lynn by telling her those awful things — which seemed like Nicki verbalizing her own negative thoughts about herself — and trying to have Cara Lynn forcibly taken to a harsh boarding school where she wouldn't be able to see or talk to her family. This girl just lost her father, is trying to adjust to a completely foreign way of life, and made a hideous mistake by getting involved with her 37-year-old teach, and Nicki's response was to send her away like a prisoner and crush the girl's spirit by calling her a manipulator and a liar?
This was after Nicki had chastised Barb — who was trying to organize practical family matters like who's going to take care of vehicle maintenance when Bill's incarcerated — and accused Barb of trying to grab power and become the priesthood holder for the family in Bill's absence. At the same time, Nicki blew the news that Barb is attending a different church way out of proportion, and it prompted Bill to charge home from his state senate gig in order to grill Barb about whether she cares about the family. Yeah Bill, she let you divorce her, silently watched you seal yourself to two other women, forgave you for knocking up yet another woman by having premarital sex and later sending her off to Europe with your unborn child, supported you when you ran for public office, and SHE'S the one who doesn't care about the family?
And to add to all of this, of course Lois had to go missing and suggest that her husband put her out of her misery. And of course Rhonda had to tell Heather she'd slept with Ben and Ben had to respond by offering to engage in some kind of polygamist arrangement. And Adaleen had to hold Barb at gunpoint, bite her, and then get busted by police. And Alby had to somehow be able to sneak into the state capitol building and attempt to assassinate Bill … all while everyone waited to see if Bill and Barb would be indicted on statutory rape charges, among other crimes.
On top of all this, Bill remained in denial about how much control he'll be able to have over his family should he be sent to prison for 20 years, insisting that his wives will just follow his dictates and run Home Plus the way he wants them to. But Barb, the only person who's been facing the real possibility of his incarceration, was again harangued for her pragmatic behavior when she told Bill that their marriage will be completely different with him behind bars.
I expected so much more depth and rational storytelling from the Big Love writers. Unfortunately, after watching "Exorcism," my hopes for the series finale are pretty low right now.
Photo Credit: HBO