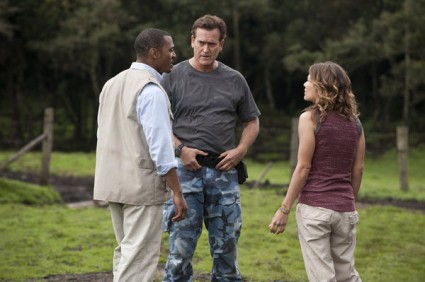 USA and the Burn Notice Powers That Be had us all salivating when they announced at last year's Comic-Con that Sam Axe (played to perfection by cult hero Bruce Campbell) would be getting his own prequel TV-movie. Just a little less than a year later, Burn Notice: The Fall of Sam Axe has hit the small screen, and I find myself feeling … satisfied, but a little underwhelmed.
The idea of a movie "event" for a TV show is a fairly uncommon one that can be effective if done well (see: 24: Redemption). And one can't argue with the choice of subject matter: Bruce Campbell could make almost anything watchable, and the character of Sam Axe has plenty of unexplored backstory. Not to mention, plenty of quips ("We're looking for a secret intelligence facility. They don't put them on maps, that's how you know they're secret"). It's admirable that TPTB would invest the time and effort into further developing the Burn Notice universe. In fact, you could probably do a movie for each of the show's main characters.
After watching The Fall of Sam Axe, I'm just not sure that you should.
Don't get me wrong, Campbell acts the heck out of the role of then-Commander Sam Axe, who's dispatched to Colombia by the Navy to investigate rumors of a terrorist group and decide if military aid is needed to defeat them. There's also a great supporting performance by RonReaco Lee — late of Matt Nix's other series, The Good Guys; may that show rest in peace — as Ben Delaney, a doctor at a civilian clinic that's in the line of fire. (If TPTB don't find some way to get him on this upcoming season of Burn Notice, I will be very disappointed. He'd fit right in.) The entire opening sequence, which riffs on the often overdramatic way that military dramas often go, is hilarious. And there are plenty of Burn Notice hallmarks: voiceovers, snazzy transitions, the origin of the alias "Chuck Finley," and stuff that blows up.
So why don't I love this movie instead of just like it? I think it's equal parts what is there, and what's missing. There are some aspects of the movie that are pretty ordinary. Kiele Sanchez (as Amanda) does pretty much what she does on A&E's The Glades: banter with and be the love interest for the hero. We've also seen Sam's blustery, by-the-book boss and the characters who should be good guys but end up being apathetic (in this case, CIA agents) before. And no amount of wisecracking can make the obligatory scenes where Sam tries to teach the locals military tactics any more funny; the" lost in translation" kind of jokes have been done to death. There's just a little too much here that feels like "been there, done that."
The Fall of Sam Axe also reminds us of what makes Burn Notice really tick: it's about the entire group, not just one particular character. Sam is great, but there's something that just isn't the same without Michael, Fiona, Jesse or Maddie there for him to play off of. We've had four seasons of this group working so well together that watching one without the others is almost like missing an arm. An appearance by Jeffrey Donovan is a nice touch, but not enough.
And while it's nice to see how Sam left the Navy and ended up in Miami, I'm not convinced that there was enough story that we needed a two-hour movie. Burn Notice has done a great job parsing out Sam's backstory throughout the series as is. The plot feels like it might have fit just as well in an episode of the show. Add those two things together, and while I think that we could do a Fiona movie or a Michael movie (or even a Fiona and Michael movie), maybe we're better off just letting the show do what it already does so well.
That's not to say that The Fall of Sam Axe is a complete disappointment. Far from it. It's certainly a fun, funny way to spend two hours, and at least we learn a little more about Sam Axe than we knew before. I enjoyed watching it, certainly, but after waiting with bated breath for a year, I think I was expecting something bigger than a TV-movie that makes me long for the return of Burn Notice more than anything else.
Photo Credit: USA