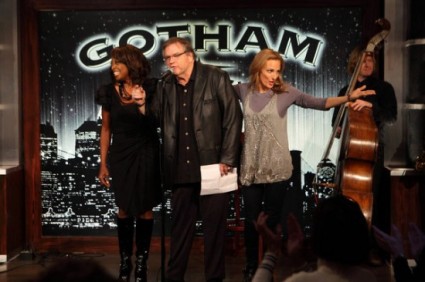 Who knew that the biggest drama to unfold from the NeNe for Meat Loaf trade on last night's episode of The Celebrity Apprentice would come not from the players trying to fit in with their new teams, but rather from the traded "celebrities'" mutual inability to keep their emotions in check?
I totally don't understand what happened with NeNe … she felt like she couldn't be around Star, so she decided she'd had enough once she'd been switched to another team? I never thought she was a strong player, but that was just crazy. Did anyone else think they saw a poster with NeNe's picture that read "Wanted: Reward if Found" in one of the outside shots?
The other drama occurred once the task — competing comedy shows — was already underway. La Toya squared off against Meat Loaf in what could have been one of the most entertaining challenges yet, although it's hard to say considering that we were shortchanged on the task so that the three hour episode could include an additional challenge.
Anyway, that was a great guest appearance by Jimmy Fallon, and who knew that he was friends with John Rich? Tracy Morgan's participation, on the other hand, was a good way of summarizing how Star's "celebrity" differs from people who actually posses a talent: the best she could do was a bad video clip of Tracy. He shoots 30 Rock in New York, so why couldn't she ask him to be there for the show? The funniest part of their show turned out to be Marlee's "Deaf Comedy." I wish we'd gotten to see more of it.
But back to the drama. It was touching how Meat Loaf fell apart over his fundraising dollars, but come on … he not only minimized everyone else's charity (in my eyes), but he was also kind of acting like a baby. I know his intent was pure, but literally crying over the fact that his donors' money might be going to a different worthy cause? That is, and has always been, the show! To be honest I wanted to see him lose just to watch how he'd handle the realities of something he'd signed on for.
But at the same time it was clear that, as far as the task was concerned, La Toya deserved to be the first person fired twice in one season (contrary to Trump's faulty memory, at least one other person has swung and missed twice on the show, and her name starts with an "O"). $1,000 from the Hiltons, heirs to a billion dollar fortune? That's pathetic, and only served to further reinforce the idea that La Toya didn't deserve another shot at winning. All her firing last night did was right a wrong.
And I love what the second task said about Lil Jon and John Rich: even one man short and hobbled, they still stand head-and-shoulders above everyone else that's left whose name isn't Marlee. It was fun that the OnStar promotional video challenge was a rematch between John and Marlee after their epic art show fundraiser. Too bad that kind of money wasn't up for grabs again.
I loved how Star described the way her team was performing: "A Meat Special." Because he not only took charge of the creative, but he also infused their team with all that's unbalanced and unpredictable about him.
Both teams experienced creative difficulties, but while Jon and John had to struggle with making their vision happen, Marlee's team had to deal with the lack of vision that Meat Loaf was bringing to the table. And I really thought that, for that and numerous other reasons, Meat Loaf was easily the most expendable member of the team. Trump's been protecting Star since the beginning, and I don't think he's ever even pretended to consider firing Marlee. So was it the love fest in the first half of the episode between Trump and Meat Loaf that set up that shocker? Because I didn't see Star getting canned, even as much as I hoped it would finally happen.
Look, I think Meat Loaf has been strong all along, but at the same time his unpredictability is a little scary. Remember when he went off on Gary? Or last night when he got heated with the director of production who was only trying to help? Not to mention his blowup with Star … she's not preferable, but given what had just happened in the anteroom I was a bit amused to hear Trump say that it's Star who has a hard time getting along with others. She does, but she's not alone.
Either way we now have our final four: John Rich, Lil John, Marlee Matlin, and Meat Loaf. Assuming next week's the interview episode and everyone's vulnerable, who are your picks for the finale? Me? I'm going with Marlee versus John Rich.
Photo Credit: NBC