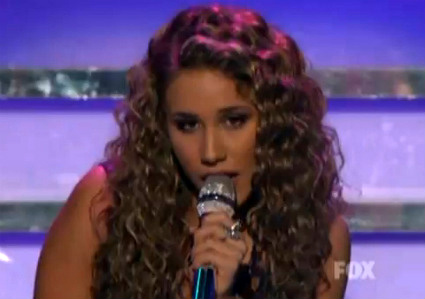 And there you go.
An "all-country" American Idol finale, to be served up nice and fresh on a California stage next Tuesday evening. (Yes … you heard right — next Tuesday evening. Miss it and you'll be overloading the internet to get your fix. The winner will be announced Wednesday.)
The two darlings of the last few months — Scotty "The Hotty Body" McCreery and Lauren Alaina — will be dueling for the Season 10 crown. A couple of teens who haven't even seen a generation of life, thrust in the national spotlight for all of us to ooh and aah over.
I mean, can you imagine? They're kids, for Pete's sake! And there they are, in the national spotlight greeting a football field of fans and hugging a boy who saved his brother from one of the devastating hurricanes that blew through Tennessee recently. Truly amazing.
But … not so much for Haley Reinhart. Her truly amazing moment came with the realization she wasn't in the finale. The look on her face held a thousand words and phrases describing "shock." It was plain as the nose on your face; she was flabbergasted at Lauren's advancement.
Why didn't she win out over Lauren Aliana? Mayhap she couldn't hit those notes without screaming. Perhaps people didn't like being yelled at when they listened to her music. Was it the overtly swoopy swaying? The growling? I thought her "trippy" Zeppelin tune this week was magnificent, but her disposition really showed during her swan song … and not in a good way. As much as she grew on me over the last few weeks, I have to admit I was glad she didn't win given that final elimination performance. I'm sure I'll get over it, but in the meantime it wasn't a good look for her to throw it back at the camera like her stuff didn't stink.
The shock was understandable. The attitude was not.
Side Notes: I can't tell you why I always get teary-eyed over this particular episode of the season. It's a thrill watching the Idols head back home to all their fans waiting in the wings. How can you not get choked up a bit?
The Italian Boys? Il Volo? They were a kick. Loved'em.
Photo Credit: Fox