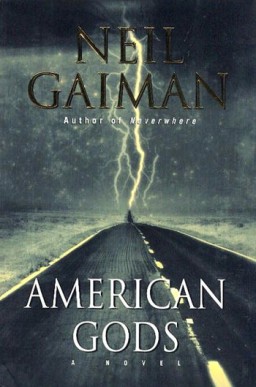 This just in: I can predict the future. Or maybe Tom Hanks reads CliqueClack. Or maybe it's all just coincidence. In any case, a couple weeks ago I asked what book you would want to see turned into a television series, as it seems to be a huge trend on the small screen these days. One of the examples I offered was Neil Gaiman's American Gods, a favorite novel of mine, from one of my favorite writers. What do you know? Today I see in my inbox that HBO is set to air a six season high budget TV adaptation of Neil Gaiman's American Gods with Tom Hanks's production company at the helm.
I couldn't be more excited. HBO is the perfect home for a series like this, and with a big name like Hanks behind it, I am confident it is going to get the attention that it deserves and needs to be a big hit. I'm really curious to see what the show is going to be. It appears that it is going to be "based" on the novel. The book itself is under 500 pages, so I can't imagine that story that it contains could support six seasons, each containing 10-12 hours of content. With that said, the universe that Gaiman created is so rich that it could easily support that many hours worth of stories. In fact, it has supported a second novel (Anansi Boys) already.
If you are unfamiliar with the work, it is a big, sprawling, epic that features the main character, Shadow, meeting various "gods" who are living in America. In this world all the gods of myth manifest as real beings, their power growing and diminishing based on the level of belief of the people around them. It makes for a wonderful universe filled with allusions and references to all sorts of mythology — both popular and obscure. The novel focuses on the war between the Old Gods of myth, with the New Gods of America (things like television, internet, celebrity, etc). It will certainly make for a fascinating TV show.
The only possible negative in the whole equation is that the show is slated for 2013 at its earliest. With Game of Thrones going off the air in a mere two weeks, I feel it necessary to put on my best whiny voice: but I want it now!
Photo Credit: William Morrow