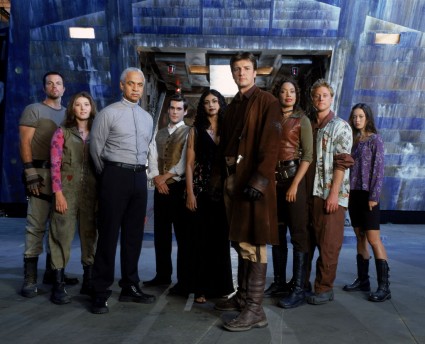 If there's one thing Joss Whedon can do, it's write characters well. No, I'm going further than that, and saying that it isn't necessarily that he writes them well, but that he creates such a perfectly eclectic mix of characters in his shows that they always bring out the awesomeness in one another. It's because they interact so well, that they are so intertwined, that makes it hard to choose just one favorite. But I bullied the team into choosing their favorite Firefly character, and here's what they had to say:
Julia: Kaylee, for sure. She's kind of that girl that every girl like me felt like, the one who was always "one of the boys," but not in a tomboy way, but in a nerdy, mom/little sister sort of way. I love that Zoe kicked so much ass and I love that Wash is such a fundamentally good sort of guy, but Kaylee's a girl after my own heart.
Katie: I would like to stress this was a very, very close call for me, because all the characters are great. But, if I had to choose just one, it would have to be Wash. His humor helped bring balance to many of the more serious episodes, and I love that he is the yin to Zoe's yang … or the other way around. Slight spoiler alert, he is also the reason I have a hard time watching Serenity all the way through.
Ivey: Serenity herself. If ever an object could be considered a part of the cast, it was that beloved clunker.
Keith: Wait … As someone who loves to preach about it being "all about the characters," you chose an emotionless, mute hunk of malfunctioning machinery?
Brett: I'm going off the board and choosing Saffron (Christina Hendricks). Her first appearance, in "Our Mrs. Reynolds," was great, and the return in "Trash" was even better. Had things worked out a little differently where the longevity of the series is concerned, I like to think we would have seen her again from time to time.
An: I'm going to shoot for Zoe. As a minority, I loved having another sci-fi character I could dress up as since Uhura. Plus, Gina Torres rocks. Between Zoe and Starbuck, my 2003-2004 need for an Amazonian warrior, post-Xena, was full sated. For awhile I didn't get Zoe and Wash. In fact, I really wanted a flashback episode showing how they got together because I originally thought the biggest browncoat badasses with the biggest badass guns should get together. However, by the time "War Stories" rolled around, I had fully pulled onto the Zoe/Wash train.
Are you disappointed the CliqueClack team showed no love for Jayne or Book, Simon or River? Or did you notice that somehow Captain Mal himself was left off our list? Vote below and elaborate in the comments!
Photo Credit: FOX