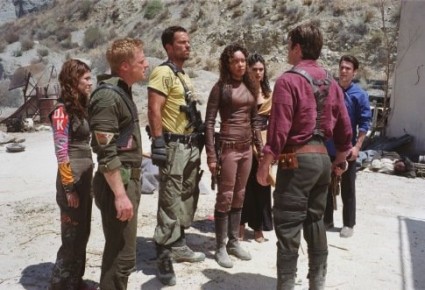 In case you hadn't noticed, it's Firefly week here at CliqueClack. Most of the writers here are big fans of Joss Whedon's short lived project (and the movie that came later). I asked the team a general question as we headed into the week: Why do you love Firefly? Here are the responses.
Bob:
I really loved the unique setting of Firefly. The universe was big and ambitious, with a really different flavor than anything else that I can remember on television. It was a space opera with a western mentality and it made for a really fun show. As with most Whedon projects, the universe was deep and well developed with a lot of interesting ideas and backstory to mine (if we had only had more time!). There were also some great details that really enriched everything. One that comes to mind first is the Chinese that was interspersed with the regular dialogue, as an interesting take on the evolution of our language over time.
Debbie:
One of the things I loved about Firefly was the complexity of the characters. The good guys weren't actually good guys at all; that line was pretty fuzzy in Firefly (especially Jayne). Hearts of gold, a speckled past … kind of like a whole spaceship full of Han Solos, complete with his entertaining banter. The crew had a fierce love for one another and gave a whole new meaning to "I've got your back." It was such a pleasure to watch this crazy variety of characters mix and mingle as well. A hooker, a doctor, a genius, a crook and a priest all traveling with space cowboys … now there's a concept you don't see every day.
An:
I'm a convert to Firefly. I remember watching the pilot when Firefly first came out and hating it. The actors didn't seem comfortable speaking Chinese yet, everyone seemed like a one-dimensional cut-out, Nathan Fillion hadn't fully stepped into the role of the boy-captain (like he had with Castle), Adam Baldwin hadn't found himself as an actor yet (as he had with Chuck), and I just didn't get Wash and Zoe. Although my geeky friends tried to convince me to return to the fold, they never succeeded.
All the same, I remained abreast of Firefly issues and when the movie appeared looking kickass I knew I had to watch it. So, rather than start from the pilot and work my way forward (because every time I tried to re-watch Firefly I started and ended with the pilot), I skipped the pilot altogether and became a full-fledged addict. I laughed at "Captain Tightpants" and marveled as the characters, writing and acting improved with each new episode. When I saw Serenity, it did everything I thought the pilot should have done and more. However, I enjoyed and watched Firefly, not for the space cowboy rebellion theme,  but for the character interactions.
Katie:
It's hard to explain why I love Firefly in just a few sentences … which says a lot about the series. Strong, complex female characters, fantastic dialogue, a good mix of drama and comedy, not to mention some fantastic actors with tons of chemistry … it was just one of those shows had so much going for it.
So, readers, why do you love Firefly?
Photo Credit: Universal Pictures