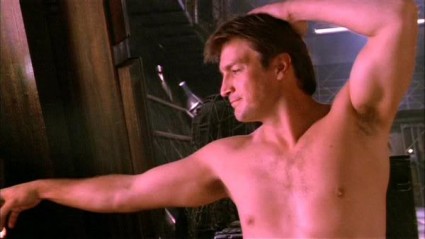 A few days ago, I posed a question to my fellow Clackers for Firefly week: who is the sexiest crew member of Serenity? With so many gorgeous, smart female characters on the show, I really expected lots of responses from my male cohorts. You want to know who responded? All women. We didn't just discuss the men of Firefly, but it was still only women that participated in the conversation. What does this tell you? Are we female Clackers more hot and bothered for these characters? Do the male Clackers have a better sense of propriety? … Or were they all just in their bunks?
Me: I'm going with the dark horse … Simon. Sure, he's a stick in the mud for a lot of the series, but he really grows into his character and has his own sexy strength to him. My fellow Clackers have heard my love of the "sexy smart" personality, and I can see why Kaylee held a torch for him. Plus, his last scene in Serenity? All sweaty and shirtless? … Oh my, did it just get hot in here?
Julia: I fail to see how he is the dark horse. Isn't he the obvious choice? Or is he just really, really my type?
Me: Correction: OUR type. Gorram.
Debbie: You must be some very short gals, because you are mysteriously attracted to tiny, effeminate men! Captain Mal, with his bulk and stature, is the only real man on the cast of Firefly. OK, I jest a little, because I'm actually not all that attracted to Nathan Fillion, but I like my men to be significantly taller than me.
Carla: I adore Nathan Fillion, but he is much sexier now than he was back in his Firefly days. I have to go with Inara. Even though being sexy is core to her role on the show, she is by far the sexiest crew member. Her pure heart and bantering with Mal made her even sexier. I loved seeing the two of them together.
Kona: I don't care who else is aboard Serenity; Nathan Fillion wins. Always. I know it's the obvious choice, but to be honest with you, I never really understood it. Yes, he's a good-looking man, but I didn't watch Firefly when it originally aired, so I didn't really get what all the hoopla was about. And then I interviewed him. I had a 5-minute phoner with him before Castle premiered and in that 5 minutes, he completely won me over. He was so charming, lovely, and yes, even sexy, that in that instant I totally got why everyone wanted to have his babies always. To this day, that's the best interview I've ever had.
Did we miss anyone? Kaylee? Wash? … Book?
Photo Credit: FOX