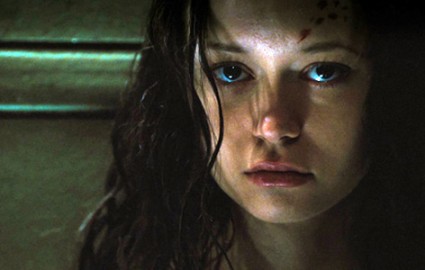 Keith:
My vote is for TSCC, because she's pretty much a robot in person if what I witnessed at SDCC is any indication. Then again, River Tam isn't a far cry from it either. (Disclaimer: In her defense, I later found out she was at SDCC during her birthday, so there may have been some bitterness going on.)
Katie:
River Tam, and not just because it is Firefly week. She has such a chilling presence at such a young age, but then her performance in Serenity? Wow.
Ivey:
There was a lot to like about her turn on The Unit, because it was so different from anything she's done before, and she didn't look like a fish COMPLETELY out of water, even though the character pretty much sucked (in a "she was a terrible person" way, not in a "the writing sucks" way). Though, my vote really has to go to Bennett on Dollhouse. Granted, playing "odd" is up her ally, this was by far my favorite twist.
Bob:
She really did a great job on Terminator. I don't think it's easy to get the nuances of playing an emotionless robot correctly (for an example of it working poorly, just watch the Governator in Terminator 2). She was able to make Cameron a very interesting character to watch, when the character could have easily fallen into a blank slate with a gun. She knew the right times to come off slightly human, and the right times to ratchet up the robot. Plus, the performance really stood up against Lena Heady's tour de force, which is saying something.
Chuck:
I have to agree.  I thought she was able to bring some human emotion to her robotic character as well.  There were times when she seemed to really care for John Connor.
How about you — what's your opinion of Summer Glau's best role to date?
Photo Credit: FOX