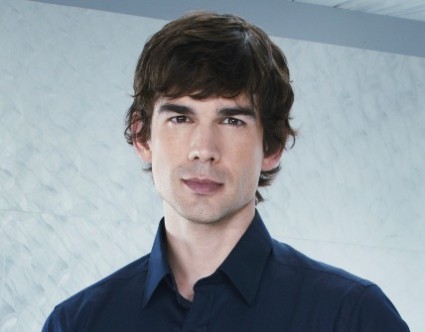 First things first: A grievance.
Dear USA Network people,
I realize that the actor, Chris Gorham was shirtless in this episode and looked very fit indeed. It was kind of hard to miss his high level of physical fitness because you replayed the same scenes of him shirtless twice. Plus you added this  handy graphic at the corner of the screen, "Want more scenes of shirtless Auggie? #covertaffairs." That seriously undercuts the spy drama, which isn't supposed to be a beefcake show, right? — A regular Covert Affairs viewer.
For the record, I like the character Auggie Anderson. He's smart. He's charming. He doesn't seem to wallow in self pity about his disability and in fact relishes overcoming people's lowered expectations of him because of his blindness. He doesn't strike me as one who'd seek bloody revenge after hearing a snippet of a man's voice on a recording he'd made of a jazz concert in Istanbul while on vacation.
As we watched the flashbacks of a then-sighted Auggie in Iraq, who was tasked with finding and taking out an enemy leader, we saw Auggie's team get pinned down by enemy fire and then observed Auggie enter a building and kill several people, including the chief target. However it seemed uncharacteristic for the Auggie we know today to use an innocent flight attendant to get him in close proximity to the turncoat who hurled that bomb under the Army vehicle which killed Auggie's colleagues and blinded him.
While it appeared as though the rest of his crew died either by gunshot wound or from the bomb explosion, when I saw current day Auggie prepping for the mission with a short, curvy knife, I expected to learn that Auggie had been tied to a chair and tortured or intentionally blinded by the enemy, something really gruesome because I figured something intentionally gruesome was the only thing that would motivate this even-keeled guy to turn so rogue. I get that Auggie still harbors rage about the lethal incident — for the betrayal, for his lost colleagues (including the guy who loved the jazz music which Auggie once mocked) and for the end of Auggie's work as a field agent — but his character doesn't seem like one who'd go on a violent, personal revenge mission where he put a random civilian (Charlotte from Lost!) , with whom he was sleeping, in potential danger.
Obviously Auggie isn't a cold-blooded killer — he's no Jack Bauer — as evidenced by his unwillingness to blind the man who'd blinded him when he had the opportunity to do so after besting him in a very uncomfortable fight scene where a now-blind Auggie grappled with a sighted man. Auggie, for example, would've had no idea if anyone was coming up behind him or if his opponent was pulling a hidden gun from his sock or something. This fight scene was unorthodox to say the least.
But I loved how during this episode, Annie was the one who provided Auggie with the intel and set him up with resources. She was the voice of reason on the phone, pulling up files on the computer and feeding him valuable tips. It was a refreshing change.
However as much as I like Auggie, I didn't like this side of him as we've witnessed nary a hint that there was a darkness brewing beneath the surface, unlike, say, Jai Wilcox, who always seems as though he's ticked and harbors deep resentment about … something.
Photo Credit: USA