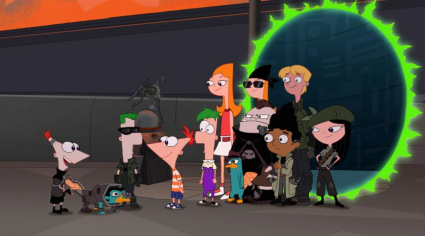 Last week, I had the displeasure of reviewing the poorly written, miscast, live-action Fairy Oddparents movie. Frankly, it made my brain hurt with its badness. This week, I got to watch a much, much better television movie. Phineas and Ferb: Across the 2nd Dimension actually exceeded my expectations. Isn't it nice when that happens?
Across the 2nd Dimension ("in fabulous 2-D," no less) finally takes on a question the fans have been wondering since the beginning of the show — what would happen if Phineas and Ferb discovered Perry's double life as a secret agent? It was a risk to finally use this storyline, but the way they handled it made all the difference.
On the fifth anniversary of the boys adopting Perry, Phineas and Ferb accidentally meet the semi-evil Doctor Doofenshmirtz, who they take to be a simple pharmacist. Why you'd ever think a run-of-the-mill pharmacist would be building multi-dimensional transporters is beyond me, but the brothers still help Doofenshmirtz out. It was fun to see Perry try to stop them without them finding out his secret identity. After traveling to the 2nd dimension of the title, they discover this universe has a much more sinister Dr. Doofenshmirtz who has actually taken over as supreme ruler of the tri-state area.
To protect the boys from Alternate Doofenshmirtz's wrath, Perry ends up finally revealing his secret. This is where one of my favorite parts of the movie comes in … Phineas is very upset at this discovery, so much so that he doesn't even want to look at Perry. For such a mild character to get so mad, you know it's serious. Still, you can totally see where he is coming from. After all, Phineas doesn't know the agency's strict rule of taking the agent away from their family when the agent's cover is blown; he just knows Perry has been hiding this whole other life from them for half a decade. Even without Perry being able to speak, this is a surprisingly moving arc for Perry and Phineas. By the end, you really get how much Perry loves his family, even if he can't express it to them the way he wishes he could. This storyline is just really strong writing, with great voice work from Vincent Martella as Phineas, and perfect emotional animation for Perry. The arc eventually ends the way I figured it would, but it's still such a beautiful part of the movie.
The other really surprising part of the movie was Candace's story … or should I say Candaces' stories. That's right, just like the rest of the characters, there are two Candaces thanks to the two universes. To be honest, Candace is usually the weakest character on the show for me — that's no disrespect to Ashley Tinsdale, who I like in the role itself, it's just the nature of her party-pooper character. The 2nd dimension's Candace is the leader of a resistance against the actually formidable 2nd dimension Doofenshmirtz. Like this universe's evil doctor, this universe's Candace is bad ass. She's a warrior, a strategist, and a tough leader. More than anything, she will do anything to protect her little brothers. Tinsdale does a great job as this stronger and more mature version of her normal character.
On the other side of the coin, normal Candace has a pretty damn funny storyline involving what she calls the "mystical force" (in my own head, I've always called it "the Murphy's Law effect" of the show) that always causes her brothers' inventions to disappear, and her belief that this force is actually sentient. Considering the precise timing of the inventions disappearing in every single episode … I'm not entirely sure she's wrong. I mean, in the movie itself she uses it to her advantage to save the day. Just saying.
There are so many inside jokes for the fans in this movie. In practically any other TV movie based on a show this would seem forced and trite, but Phineas and Ferb is all about the running gags and inside jokes. Without them, it just wouldn't have been a real Phineas and Ferb movie. We get to see the Zebra who calls Candace "Kevin," the giant floating baby head, the band Love Handel, Candace's allergy to parsnips that makes her sound like a blues singer … the list goes on. There's a plot point involving dozens of the boys' earlier inventions, which really ties the movie back to the show itself. The writers also made nice work of the normal Doofenshmirtz's inability to recognize Perry without his trademark hat. Even when Phineas shows the doctor his pet platypus and says his name is Perry, Doofenshmirtz can't put two and two together. He just pauses and asks, "Are all platypuses named Perry?" … and for the record, Phineas replies, "In a perfect world, yes."
Besides the running gags, the movie is just really funny. I especially loved Buford's Victory Gum that came with existentialists' trading cards ("I'll trade you two Kafkas for your Dostoyesky!"). I doubt I'm giving the jokes their due here, but I'll tell you that I was laughing the whole time. It really fits with the style of the show, so if you're a Phineas and Ferb fan already, you're going to like this movie … however, I would suggest watching some episodes first if you're new to the show, so the humor will be put into more context. It also wouldn't be Phineas and Ferb without music, and boy are the songs here great. "Summer (Where Do We Begin?)" makes good use of the P & F theme song for a verse, and "Everything's Better with Perry" is a great, peppy opening number, but my favorite is "A Brand New Best Friend (and it's Me)," the duet between Doofenshmirtz and … Doofenshmirtz. They packed so many TV and movie references in the visuals that my pop culture-loving heart could barely take it.
After last week's review of the Fairly Oddparents movie, I desperately needed something good to cleanse my mind and soul, and Phineas and Ferb: Across the 2nd Dimension hits the spot. My deepest thanks to Dan Povenmire and Jeff "Swampy" Marsh for not only making such a great show for kids and adults alike, but proving that a TV movie based on a kid's cartoon can be smart, entertaining, and, dare I say it … moving.
Photo Credit: Disney