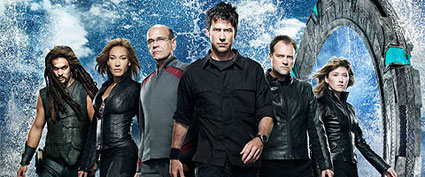 I've never been a huge fan of the Stargate TV series — although I do love the original movie — but I happened to catch a couple of episodes of Stargate Atlantis and I was hooked. It's still the only Stargate series I've devoted any amount of time to, thanks to Universal HD. The show lasted for five seasons on the SciFi Channel (yes, pre-Syfy) and was to have a big screen movie until Stargate Universe tanked. The series has been released on DVD in the past, and out of the blue, MGM decided to compile a fan favorite set on Blu-ray with the caveat that this would be the only release these episodes would get on the high def format. Either due to sales or fan demand, MGM went back on their word and surprised just about everyone by announcing a new Complete Series set on Blu-ray!
The set is comprised of three clamshell cases, housed in an outer cardboard sleeve, containing all five seasons on twenty disks.  The episodes look and sound spectacular with a crisp HD image and 5.1 DTS-HD Master audio. These upgrades would be enough for any fan of the series to want this set, but you also get over 50 hours of bonus material, including episode commentaries from various cast, crew and creative personnel on every single episode. Each disk also contains bonus material that should be of interest to any fan of the show. Here's a quick breakdown of what's included:
Season 1
Season 2
Disk 1: "Mission Directive: The Siege (Part 3)" — behind the scenes of the season opener; "Mission Directive: The Intruder" featuring Peter Deluise, who shows us how corridors and sets can be repurposed over and over again.
Disk 2: "Mission Directive: Instinct" — shows how the director bridges the action from a set to a location, and gives us a look at guest Jewel Stait as a human/wraith hybrid (she would join the show as a series regular playing a different character towards the end of season three); "Introduction to a Character: Ronon Dex" — yes, Game of Thrones and Conan the Barbarian star Jason Momoa got his big break on Stargate Atlantis!
Disk 3: "Profile on David Hewlett" — an in-depth look at the actor and his character with some interesting facts (he was conceived as an African-American), and Hewlett answers some fan questions; "Stargate Atlantis: Stunts" — James "Bambam" Bamford goes through the process of creating stunts and using doubles.
DIsk 4: "Road to a Dream with Martin Gero" — the writer tackles his first acting role on the show (this one becomes a bit tedious and self-serving after a few minutes); "Profile on Paul McGillion" — did you know McGillion doesn't really have a Scottish accent? Fun facts about the actor, his role and the infamous kissing scene with David Hewlett.
Season 3
Disk 1: "Mission Directive: Sateda" — a look at the backstory of Jason Momoa's character; "Mission Directive: Progeny"; "Inside the Stargate Atlantis Visual FX Department"; "Profile on Rachel Luttrell"
Disk 2: "Mission Directve: Phantoms"; "General O'Neill Goes to Atlantis" — a look at Richard Dean Anderson's guest spot on the show, his penchant for rewriting dialog, and the silliness of acting underwater.
Disk 3: "Mission Directive: The Game"; "Masters of the Alien" — a look at the makeup process and the creation of the Superwraith and old age makeup.
Disk 4: "Mission Directive: First Strike"; "Stargate Atlantis: A Look Back on Season Three with Martin Gero"
Season 4
Disk 1: "Mission Directive: Doppelganger"; "A New Leader: Amanda Tapping Joins Atlantis" — a look at the new showrunner's decision to bring Tapping over from SG1 while only briefly addressing the controversy surrounding her replacement of Torri Higginson.
Disk 2: "Stargate Atlantis Bloopers" — the first ever look at bloopers from the show, mildly humorous, but writer Martin Gero is correct when he says they're really not all that funny; "Mission Directive: This Mortal Coil"
Disk 3: "Mission Directive: Quarantine"; "Mission Directive: Outcast"
Disk 4: "The Making of Trio" — an interesting look at what was supposed to be an inexpensive "bottle episode" (a few characters are stuck in one place) that became logisitically complicated and one of the most expensive shows of the season; "A Look Back at Season Four"; "Deleted Scenes" from season four.
Season 5
"Mission Directive: Search and Rescue"; "Showdown! Ronon v. Tyre" — a look at staging a fight scene between Jason Momoa and Mark Dacascos; "Bringing The Seed to Life" — how the production team put together all of the physical and CG effects for a seamless visual.
Disk 2: "Mission Directive: Whispers"; "Mission Directive: Tracker"; "Tricks of the Trade: Submerging the Stargate" — a look at how to put a Stargate underwater without really putting it in water; "Joe Flanigan: A Conversation with the Colonel" — a rare sit-down with Flanigan as he discusses life on the show and how he juggles that with his real life (this is the only real interview Flanigan appears in on the entire set).
Disk 3: "Building a Humanoid" — James Robbins and Martin Gero discuss creating a new bad guy that even a group of extras can't screw up; "Dr. Jackson Goes to Atlantis" — a look at Michael Shanks' guest appearance; "The Life and Death of Michael Kenmore" — the evolution of Connor Trinneer's recurring character that was introduced in season two; "Inside the Stargate Costume Department" — profiling Val Halverson and how she comes up with costume ideas; "Deleted Scenes (Part 1)"
Disk 4: "Mission Directive: Brain Storm"; "Stargate Atlantis Goes to Vegas" — a look at the CSI-style episode, how they doubled British Columbia for the Nevada desert and shooting in an actual Vegas casino; "Deleted Scenes (Part 2)"
As you can see, this is an exhaustive set of extras that will keep fans happy for a long, long time! My only complaint about the extras is that none of them are in HD and only the season five extras are in 16×9 widescreen format (but still not HD). I noticed another odd quirk as the bonus material would only play in the upper left corner of my computer monitor — maybe it was just my software, but I'd be interested to know if anyone else experiences this. It plays fine on a television though, so don't let that put you off. Overall, Stargate Atlantis: The Complete Series on Blu-ray is a terrific addition to any Stargate fan's library for the HD presentation alone.  This massive list of extras is just the icing on the cake.
Photo Credit: MGM/Twentieth Century Fox