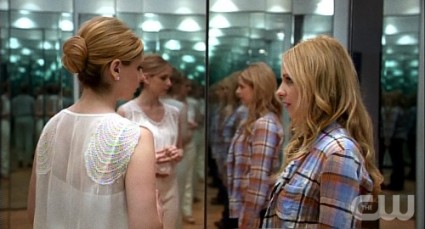 The CW started the new fall season with the television return of Sarah Michelle Geller in Ringer. If you are a fan, you will be seeing a lot of her as she plays identical twins, Bridget and Siobhan, who both have crazy, messed up lives. The pilot episode was a bit hit or miss. While I loved the premise of the show, there is room for improvement in the look and feel onscreen.
At the beginning of the episode, it appeared that Bridget was the troubled sister and Siobhan was the perfect sister. The twist that Siobhan had troubles of her own and that she "killed herself" because of these troubles was a pleasant surprise. The pilot was packed full of information about the twins, but really created more questions than answers. It appears that the mysteries will be a complex web of motives, characters, and intrigue. This has me hooked … for now. Though, the story could easily become overly convoluted.
There were perhaps too many questions created for a first episode: Who is Siobhan? What "arrangement" did she have with her husband? Does she love Gemma's husband, Henry? What happened to the little boy, Sean? Who is the baby daddy? Do any of these have to do with someone trying to kill her or is that something else entirely?
Bridget's life didn't leave us with as many questions, but FBI Agent Machado's (Nestor Carbonell) quest to find her looks to be a fun cat-and-mouse chase. Plus, I expect that she will have some difficulties trying to pretend to be Siobhan. Lastly, what will she do with the man who tried to kill her?
I don't mind all those questions, because the biggest question of all was answered. Did Siobhan really kill herself? When we saw that she was alive and aware of what was going on, I was officially hooked. I was afraid that Siobhan's status would remain a secret and wasn't thrilled with that idea. Going forward, I'd like to see each episode more balanced between seeing what both Bridget and Siobhan are doing.
The final question of the episode: Who was Siobhan talking to on the phone? I can't wait to find out!
While I didn't have problems with the story, I didn't like the execution. The twin scenes were annoying to watch. The flipping between the front and back of the sisters during a conversation was irritating. It was obvious that it was a split screen or a double. I don't want to notice that when I'm watching. I should be able to believe that there are two actresses on screen playing the sisters. My other complaint was the use of mirrors. I'm hoping  that was only used in the pilot and the mirrors go away or at least are only used sporadically.
What did you think of Ringer? Intrigued or bored?
Watch the episode online now!
Photo Credit: The CW