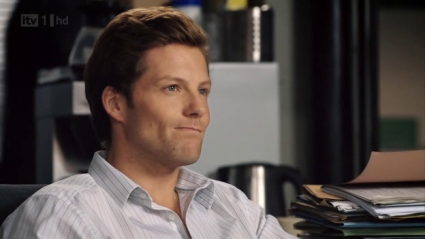 Forget Battlestar Galactica — Jamie Bamber will always be Matt Devlin to me.
Law & Order: UK is the hidden gem of crime dramas, British or otherwise, principally because it has an amazing cast that jolts the Law & Order franchise formula with their energy. On the Law side, there's Detective-Sergeant Matt Devlin, the junior detective whose handsome good looks might trick you into thinking he's just another "TV police" with a pretty face. Particularly since Law & Order shows are known for not fleshing out their protagonists.
Yet over five series (or three seasons, if you're watching on BBC America), I've come to know Matt as a dedicated copper who's smart, witty, and occasionally short-tempered. He's a friend, which made it painful to see him shot down at the end of tonight's episode, "Deal."
If this should be Bamber's last episode, it's a heavy blow to LOUK, which has been searching for its voice again after the departures of Order players Ben Daniels and Bill Paterson at the end of series four. Yet I couldn't have asked for a better sendoff than "Deal," where he took a fantastic script from head writer Emilia di Girolamo, flexed his acting chops one more time, and brought Matt's journey to a satisfying if not pleasant conclusion.
Matt and I met less than a year ago and I took a liking to him instantly; he was like the popular, cute guy in school that hung out with me for some reason. He was effortlessly charming, and his hair was always perfect, but underneath that was a big heart determined to do something good. His passion also engendered a temper, and sometimes that got the better of him, but that flaw almost made him more endearing because it meant he really gave a damn. I fell in love with him, because he was a very good man.
We went through a lot together. I was there with him as he dealt with the death of a childhood friend, sometimes not all that well. He had his moments of falling out with his partner Ronnie Brooks (Bradley Walsh), but they remained close friends; he'd just congratulated Ronnie on the birth of his first grandchild. He supported junior prosecutor Alesha Phillips (Freema Agyeman) after her sexual assault.  We found our moments of joy and humor where we could; I took an episode to laugh at Matt's suddenly more fluffy hairstyle at the beginning of series five. At some point, he even got a cat. There were good days and bad days, but we always got through them, because we were both too stubborn not to.
I caught spoilers months ago (thanks, Twitter retweets…) so I knew that he'd be leaving, and I knew how. That didn't hurt my enjoyment of "Deal" one bit — the mark of a good episode. Instead, there was an undercurrent of tension and painful inevitability as I watched Matt struggle with the case of a young kid about to be strung up for a murder he didn't mean to commit, watching him get wound up tighter and tighter, knowing he would break. Bamber conveyed so much in his glances, shifted jaw, and one well-deserved outburst; he showed me Matt at his most passionate and most vulnerable, all too often the same thing in his case. He was coming unglued in front of me and there was nothing I could do.
This was Matt Devlin. He was the guy who put himself emotionally on the line with every case he and his partner caught. He couldn't have handled things any other way. It was fitting that he took two bullets saving the kid's life; he was simply making a physical sacrifice this time.
I'm holding out hope, because I love him. I'd rather spend a few more years with him and eventually live happily ever after. But if his death is about to be pronounced — and I suspect it is — I think he'd be content with it, because he'd go out doing the right thing he'd always aspired to do.
That doesn't make it any easier to say goodbye. We may have only known each other for eleven months, but I've enjoyed every week that I've gotten to spend with Matt Devlin. I'm glad that I knew him. And I'm thankful to Jamie Bamber for bringing him to life in such a way that I'm not going to forget him anytime soon.
Photo Credit: ITV/Jamie Bamber News