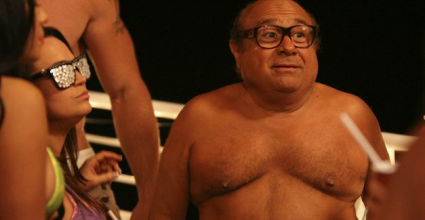 Last week, a reader suggested I don't like Charlie, which is far from the truth. Charlie is one of my favorite characters from the show, even if I wouldn't trust him in certain situations. Does anyone else think a date with Charlie probably wouldn't be too bad? Hang out at the beach, pick some shells, play with a puppy, watch some fireworks … that sounds like a nice time. Sure, I'd personally choose a beach that isn't infected with toxic waste, but that's just me. Charlie finally got to go out with Waitress, which is hilarious not only because the Waitress is played by Charlie Day's real wife Mary Elizabeth Ellis, but Ellis was also quite pregnant during this episode. I'm sure Charlie the Character would be happy to know that in an alternate universe (ours), he and the Waitress are living happily ever after.
It's fun to see Mac wearing his old, too small shirts. It's also fun to see Rob McElhenney's real wife (Kaitlin Olson) call him a fat, fat fatty. Speaking of the fat guys, the Frank and Mac storyline was a little thin, but it did introduce us to the concept of "rum ham." Frank's heartbreaking over the lost of his rum ham was amazing acting. That man knows how to get the most funny out of his screams. The montage of the Guido cruise just sort of bored me, a half-baked idea that didn't hit the mark, even with the cuts into Charlie's date and Dee and Dennis' adventures in felonies.
I like seeing Dee and Dennis working together … they have such positive attitudes working together and remembering their childhoods of looking down on people. Case in point — Dennis and Dee crafting the dramatic history of a drug addict while the girl is sitting four feet away from her. It's also fun to see their best laid plans tattered to shreds. One of the best aspects of the show is how optimistic the gang is about their adventures, only to have things go straight to hell. Man, I could not handle Dee's scalp getting ripped off her head. That's the stuff of nightmares for anyone with even chin-length hair.
This trip to the cesspool that is Jersey (in the show, Garden State citizens, in the show …) had it's strong and weak moments, but Charlie's enthusiasm gave me a whole lot of joy. Plus, rum ham.
All the best quotes:
"Goin' down to the Jersey Shore! Now, this ocean. Explain it to me, it goes on forever?" — Charlie
"Holy shit! Is that the Ocean?!" — Charlie
"Yeah buddy, that's the ocean." — Dennis
"What's on the other side of it there?" — Charlie
"… Europe." — Frank
"Now how long would it –" — Charlie
"Do not try to swim to Europe." — Dennis
"Don't try to swim to Europe." — Charlie
"You were supposed to get booze." — Mac
"This is ham soaked in rum. It is loaded in booze." — Frank
"God dammit, Frank. Eating you drinks? … That is genius!" — Mac
"Let me tell you something, Mac, there are far worse people at the Jersey Shore than the cast of the Jersey Shore." — Dennis
"It's a horrible town. It's a horrible town filled with horrible people." — Dee
"I don't know about that. I think it's a magical town. Hell yeah. Beautiful, magical town." — Charlie
Photo Credit: The Gang goes to the Jersey Shore