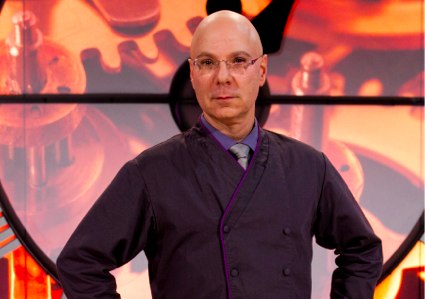 I'm sure you're saying it to yourself right now: "Another cooking competition show?!?" Well, hold your horses, because Food Network's Sweet Genius isn't exactly another one of those. Yes, it's a cooking show. Yes, it's a competition. But I'm pretty sure it's the only one to include ominous lighting, spooky voice-over narration, and references to hell.
It's definitely the most unique cooking competition I've ever watched, so naturally I had to ask someone how this came to be. Thankfully, judge Ron Ben-Israel (pictured above) and contestant Marlene Keller (pictured, next page) were happy to answer all my queries about cooking in a mad workshop on television.
"I am extremely interested in introducing chefs to working with inspiration, both conceptually and in terms of interesting ingredients," said Chef Ben-Israel, who's known for his stellar wedding cakes. "I get to play in my own bakery every day, but I wanted to venture out and engage with a larger pool of talented pastry chefs."
Chefs including Marlene, a music lover and pastry prodigy (at the time the show was filmed, she was only 20 and already a head pastry chef!), who wasn't exactly sure what she was signing up for. "Initially, I really had no idea what the premise of the show actually was. When I first applied, all I knew about it was that it was a brand new pastry competition show for a major cable network," she confided. "When my application was accepted, I learned that it was going to be aired on the Food Network, and the concept was more or less like that of Chopped, but related to pastry — then I was hooked. As far as I knew, there weren't any other shows like it, and I definitely wanted to be a part of it."
That brought her to the Sweet Genius kitchen, which more closely resembles an evil lair than a culinary setting. I asked Chef Ben-Israel where the show's theme had come from. "I was attracted to the feeling of magic in the set; of creating a bubble for the chefs to work in, and being a cross between Willy Wonka and The Wizard of Oz," he told me. "Pastry is all about magic, and we wanted the chefs to be fascinated with the challenges."
And how about those challenges? How do they come together behind the scenes? "The culinary producers research and come up with the ideas for the show," he explained. "I go over them to make sure that something incredible can be achieved with each one. I found most of the contestants very intriguing, as long as they were open to experiment and play with new ideas."
His presiding role as the "sweet genius" (hence the show's title) is a bit striking, and it certainly left an impression on the competitors, at least it did for Marlene. "Chef Ben-Israel was a bit intimidating at first with his theatrical demeanor and tone of voice. I still am unsure as to whether or not that is how he actually is in real life, or if that was a character he had to portray for the show," she admitted.
She was also a little daunted by having to face competitors with more under their belt than she, but didn't let that stop her. "My fellow competitors were all older than me — one with at least eight years more experience than I — which was definitely a bit intimidating as well, but it prompted me to try to test myself and my skills against them that much more. They were all so sweet though, and such amazing chefs, and I really enjoyed getting to know them."
Cooking doesn't always lend itself to time-sensitive competition, so I asked both Chef Ben-Israel and Marlene what it's really like trying to turn out stellar dishes within the frame of an hour-long television program. What don't we see? What's it really like to feel that clock ticking?
"We did record my explanations of the creative and culinary process, but those portions ended up derailing from the action in the studio kitchen," Chef Ben-Israel said.
"I think I was a little over-confident in my abilities in using the anti-griddle for the first time ever, so I think if I were to go back and do something differently, I probably would have used a machine or tool that I was more familiar with," Marlene told me. "I'm most proud of the fact that I actually had the opportunity to experience something like this at such a young age! The experience of being on the show has allowed me to recognize my strengths and weaknesses – both as a chef and as a human being – and that, in itself, is invaluable."
Photo Credit: Food Network
This Post Contains Multiple Pages: 1
2