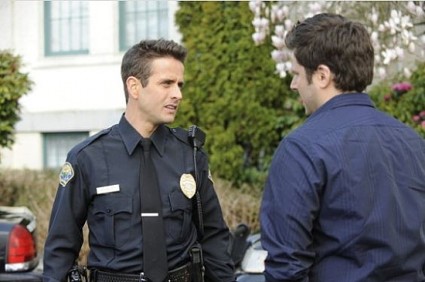 I love an episode of television like this. Psych is one of the few shows on television that knows exactly what it is and isn't afraid to get wacky. Last week's vampire theme was great, but this week was even better. Considering the recent hoopla over Seattle's Phoenix Jones, a comic book/masked vigilante sendup was superbly timed.
I also liked the change in television conventions; I'm always a big fan with a show changes the rules. When a series brings in a guest star like Joey McIntyre, you really expect him to be more heavily involved with the plot … in this case, actually being the Mantis. Having Miles Fisher's Reginald the Reporter actually being the vigilante was a nice twist. Though, we all should have seen it coming a mile away; the superhero obviously was going to be the mild-mannered reporter.
Stray Observations
Was anyone looking for Carl Lumby when Shawn showed the note that said 'The Mantis,' or was it just me?
Loved the comic-style credits sequence!
The Pineapple was on the restaurant table where Shawn and Juliet had dinner
Shawn went with bullmastiff … I was going with Margaret Thatcher
The guy that died was Carlos Jacott? The Carlos Jacott? (Apparently not, as he guested in fifth episode of the series, "9 Lives")
"Pow"-er Charge! Bug "Zap"-pper! "Whiff"-n-poofs!
My Favorite Quotes
"Yes, but you have a supernatural psychic gift. The Mantis is solving crimes using his natural instincts and sharply honed abilities." – Juliet
"She's right, Shawn. I mean, if you were a regular guy solving these crimes, that'd really be impressive, but everyone knows you're a psychic. I mean, it's really an unfair advantage." – Gus
"This guy can't even fly … or activate into half of something you just happen to need at any given moment." – Shawn
"I just gave you a setup containing Mr. T, Crocket, and a word that rhymes with Mork. And I got nothing! Not even a Battle of the Network Stars joke." – Juliet
"First, I used a classic combat distraction mode…." – Shawn
"….You went boneless, didn't you…." – Gus
"….I used my entire body as a weapon." – Shawn
"I woke up with the fire alarm blaring, wearing that ridiculous painted on costume, which means … he saw me in my underwear." – Shawn
"You mean like on Different Strokes?" – Gus
"Yes, Gus, just like on Different Strokes." – Shawn
"That's not cool." – Gus
"No it's not, Gus." – Shawn
"I know you know I'm not telling the truth. I know, you know." – Shawn, proving once again that Psych does more with its theme song than any show on TV
"The Mantis is not your nemesis, Shawn. You don't have an alter ego, a cool suit, or a tragically ironic origin story. You're just a hater." – Gus
"Shawn, I thought you said we were just going to scare them away. They don't seem scared to me!" — Gus
"That's because you just went up on your toes and started dancing!" — Shawn
"Besides it was Shawn, why psychically realized the Mantis had been framed, and led him to Cominos headquarters. He really deserves all the credit." – Shawn
"I wouldn't say that … Not that it isn't true, I just wouldn't say it." – Lassiter
Photo Credit: Alan Zenuk/USA