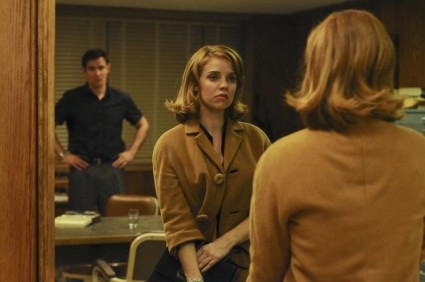 Do you remember how, in last week's episode, Maggie completely threw Dean under the bus to save her precious career with Pan American? Apparently, instead of showing us how that particular story ended, Pan Am instead decides to jump an episode into the future, where Smash Williams has come to teach Laura about race relations in the 1960's. Was it really necessary? It seems to me that more is lost than gained by a decision like this.
For as much as The Playboy Club was supposed to explore racial tensions in the 1960's, Pan Am did more with the theme in one episode than TPC did in the several that it got on the air. Laura is a naïf, but she has a heart of gold. Her admission to Joe of her own bias was an interesting twist – in similar stories, usually someone in Laura's shoes feigns ignorance of the world around her. Instead here she admits that she was scared when she didn't have reason to. It was a sweet story, reminiscent of the similar one told on Leverage this season. Plus, any excuse for the always brilliant Gaius Charles to be on my TV screen is a good thing in my book.
All things considered, it is difficult not to feel for Kate. She was never trained for what she was directed to do for the CIA. If she had, perhaps she wouldn't have fallen in love on the job, or have been naïve to expect her handler to respect her private life in this situation. It isn't a matter of Kate being unintelligent – in fact she's proven herself to be incredibly quick on her feet. No, this is about being in over her head, and losing something special to her because of it. Niko's goodbye was heartfelt and emotional – and had a nice call back to their first date and "walking like a man." If Kate gains anything from this experience, I hope it is the CIA taking her more seriously, and giving her the tools and training she needs to do whatever it is they ask her next.
I've never really understood why networks sometimes decide to air episodes out of order. Sure … on sitcoms or other non-serialized shows it has little-to-no impact. But on a show like Pan Am, where what happens one week is often a direct result of what happened the week before, it makes no sense. From what I understand, we were supposed to see "Romance Languages" instead of "Truth or Dare." Little things like Laura's relationship with the photographer – and his pictures, whatever fallout there was from Maggie's outing Ginny and Dean, and Kate and Niko's very pre-CIA abduction relationship will all likely be story points. What was so much better or worse about this episode that it was worth borking up your narrative?
(Though, my criticisms might be misplaced, as the previews do not seem to match the episode description for "Romance Languages")
Notes & Quotes
"[Playing truth or dare] Truth. I took nude photos! [long pause] I was supposed to wait for the question, wasn't I?" – Laura
"Flying makes me a little queasy." – Joe
"I'm not sure rum is the remedy for that." – Laura
"I'm in the Navy, ma'am. Rum is the remedy for everything." – Joe
I didn't think the sailor would take Kate's advice so … literally.
I don't want to get picky, but when Dean talked about the sailors being sworn to protect Colette's right to the pursuit of happiness … is she an American citizen?
Photo Credit: ABC/Eric Liebowitz