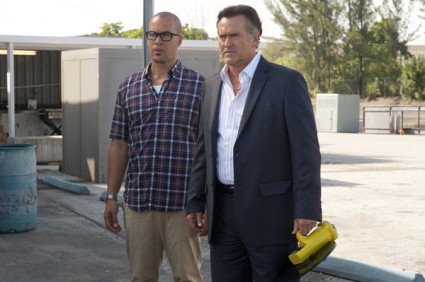 I've heard fellow writers grumble on occasion about how actors get the lion's share of fame, being that they're the ones in front of the camera. That may be true, but watching this week's Burn Notice was a nice reminder that they earn their perks, just like the rest of us.
When I'm evaluating an actor, one of the biggest things that I look for is what they can do for the moments when they're left on their own – those throwaway beats where there's no scripted dialogue to deliver, no action to be done, just that actor or actress with time on their hands. Do they merely fill space? Or do they take advantage and show us something?
In "Necessary Evil," we saw actors who capitalized – Bruce Campbell, Sharon Gless, and guest star Rick Gomez.
Campbell is always good at creating memorable, often funny characters, as we talked about last week – c'mon, it's Bruce Campbell, that's what he does. He's known for his comedic adeptness. But he's got a serious side, too. Watch Sam's face as he reacts to Jesse being taken hostage. You get what he's thinking, even though he doesn't say anything.
Ditto for Gless, who you couldn't help but feel for when she discovered her newest beau was working for Anson. When she found those surveillance pics of Team Westen in his place, you could just see something inside Madeline break. And as if that wasn't enough, she witnessed the poor guy's demise when Anson sent a package bomb to his house just as she and Michael were sitting in the Charger outside. Episodes like this are why she garnered an Emmy nomination for this part. She might have had relatively small screen time, but it didn't matter. You're still going to remember it.
Gomez (from Band of Brothers and more recently, the federal attorney making the acquaintance of Raylan Givens on Justified) gets the week's plum guest-star role as William Resnik, a scientist whom the CIA believes has gone rogue, but who's actually been held hostage to build a missile for an African dictator (played by former Bones star Jonathan Adams in one of those 'hey, I almost didn't recognize that guy' moments). There was a moment where the dictator, displeased, pressed a gun right under Resnik's nose, and you could visibly see the poor guy disintegrate. Not a word of dialogue – but his body language and facial expression said it all.
That's acting. That's bringing the character to life, no matter how small the part or how brief the screen time. That's the kind of thing that makes my job easier – and also makes me want to write better material to match their effort.
Let the actors get the glory. When they go the extra mile, as they did in this week's Burn Notice, they very much deserve it.
Photo Credit: USA