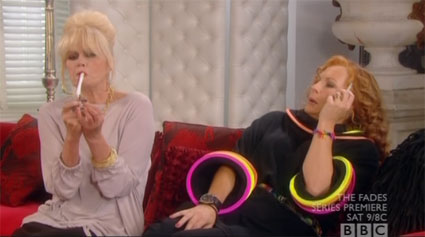 Can it be?  Has it really been almost nine years since the last series of Absolutely Fabulous? Because after seeing the first of three new episodes airing this year, I could swear it was just yesterday when we last saw Edina Monsoon, Patsy Stone, and their assorted family and friends. And how wonderful that creator Jennifer Saunders was able to gather all of the original cast members — even June Whitfield! — to reprise their roles.
While the episode, "Identity," has been billed as a 20th anniversary special, there was nothing in the episode that made it significantly different or "special" than any other episode … and that's a good thing! There was none of that "we've been gone for so long" winking at the camera; it was all as if they had just picked right up from where they left off. Eddy was her usual fashion-victim self, dressing in the most horrid outfits simply because she believes them to be high fashion. She's also caught up with the times, having Bubble updating her blog, website and Twitter with entries like "My Favorite Cheese."
The surprise of the episode involved Saffy being in jail for two years for trafficking in fake passports (she claims she didn't know, but Eddy helpfully reminded her that she was found guilty therefore she is). Of coure, Eddy has a new status symbol in Saffy and has even encouraged her to allow any of her prison friends to stay at the house (even if she is disappointed that the time behind bars didn't turn Saffy gay). Unfortunately, when one does come to stay, she turns out to be Patsy's former drug dealer and Patsy still owes her £50,000. But Patsy has no money, and she thinks that she's never been paid for her work at the magazine because you can't put a price on what she does. Saffy is the only one who accepts the fact that Patsy is old (and 20 years ago we learned her sister was 72 … and Patsy was the older sister) and should be collecting a pension, but Pats has no documentation that she even exists.  Of course, it all works out in the end but we never do find out how old Patsy is (but she isn't 39, and now has millions in back pay and pension … and a wallet).
Unlike a lot of shows that go off the air for long periods of time and come back for a reunion, this one didn't make me feel sad to see the cast looking old and trying to recapture the magic they once had. In fact, they look like they've hardly aged at all. I think the only person who looked a little older and heavier was Saunders, and even she acknowledged her weight several times (and we should all be grateful that she's even here after her bout with breast cancer). For everyone else, it seems as if time had stopped. And Saunders' writing was just as spot on and timely as ever, ripping on the Kardashian plague and having Bubble re-enact the Royal Wedding for Saffy. Eddy was also obsessed with the Danish version of The Killing, and even had a dream featuring the show's star, Sofie Gråbøl. "Identity" was pretty much a perfect way to get reacquainted with the girls, and it definitely leaves you wanting more. There are two episodes yet to air, and the best news is that the BBC has commissioned another series for 2013! Cheers, sweetie darling!
If you missed the initial airing, both BBC America and Logo will be running the episode again, so check the listings for day and time.
"Nothing wrong with a bit of extreme shopping." — Patsy's commentary on the London riots
You can now purchase the episode at iTunes!
Photo Credit: BBC America/Logo/BBC