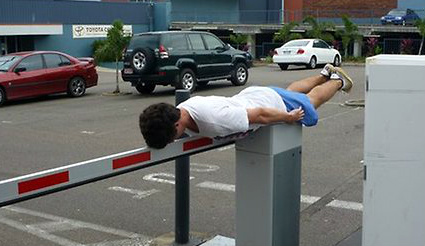 So … what sort of people audition for American Idol anyway? Well, let's see: Scat-ers. 15 year-old (slightly) Beiber-(kinda)wannabees. Freaky street performers. Brother and sister teams. Wedding singers. Mobile DJs. Coal miners. Suicide survivors. High school dropouts. Plankers. Cry babies. People who live in tents. Let's take one hopeful auditionee, watch her video and regard her chances:
Of Hallie Day, JLo gushed: "She's amazing … she could win."
JLo's dreamin'. No, she can't and no, she won't. While not bad on the surface, I'm making a prediction right here, right now: Hallie Day will not make it through the Hollywood Rounds. Why? She's one-dimensional. I'm confident all we saw of her during her audition is all she's got to give. There's nothing more.
There are a few tricks on getting through the Idol journey to the upper tiers of the competition. Some Bozos (specifically, the ones at Vote For The Worst) think it's all smoke and mirrors, but it's not. (By the way, the article in that link is half a decade old and – while it does hold elements of truth – is the product of VFTW so take it with a grain of salt.) Some of those tricks to getting through include having a killer voice, making an winning impression on the judges and exhibiting resourcefulness … as Phillip Phillips showed us in Savannah. All excellent bets on improving your chances of advancement.
One dimensionality? Nope. That's not gonna do it. And neither is planking … as displayed by that guy in the photo above.
Combo Notes and Quotes:
I see Steven Tyler is getting his "creep" on early in the season. He outright called World Series pitcher Joe McGrane's daughter Shannon on the premiere (Joe: "How are things in Beantown?" / Steven: "Hot, humid and happenin' … just like your daughter …") and this episode he ogled Hallie Day visually and vocally: "I like watching her while she sings." And so it begins.
JLo?  I saw you yanking on your shorty-short and bare mid-riff outfit so much on day 2 of Pittsburgh I was ready to offer you my belt. (Did I say "And so it begins" yet?)
Photo Credit: news.com.au