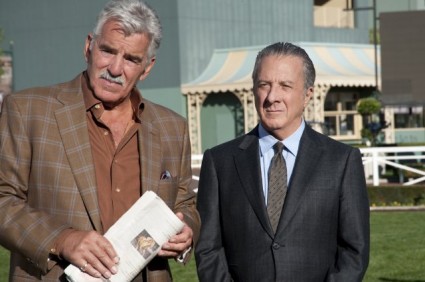 HBO's new show Luck may have previewed a few weeks ago, but tonight was the "official" premiere. Another ambitious production from HBO, Luck features behind the scenes talent like David Milch (writer/producer of Deadwood — one of my favorites) and Michael Mann (director of Manhunter, Heat). In front of the camera there are familiar faces lead by Dustin Hoffman, along with Nick Nolte, Jill Hennessy, and Dennis Farina. With that type of talent, my expectations were very high going into the series premiere.
After one episode it's always hard to judge a show. In its first episode, Luck clearly showed that it is going to be servicing a lot of characters and many story lines. With so much introduction necessary in the first episode, it's hard for me to judge how the show is going to be as we move forward (however with other enormous talents like Michael Gambon and Joan Allen joining the show later in the season, there is much to be excited about).
This first episode dove right into the world of horse racing —  one which, I have to admit, I am not so familiar with. Of course, at the beginning of Deadwood I wasn't exactly an expert on the history of the Dakota territory circa 1870. After getting a glimpse at the trainers, jockeys, agents, and gamblers that populate the track, I think we are in for some interesting stories.
One thing that struck me was that Hoffman, who (rightfully, with his resume) has top billing on the show felt like he took a back seat to the rest of the characters. I'm thinking that Ace is going to play a bigger role on the show as we move ahead. After all, it seems that he is the schemer-in-chief, and obviously has some plans to bring to fruition. He is already a compelling character, having just been released from jail and still feeling bitter about his incarceration. I'm eager to learn more about his past and just what he has in store. It's going to be fun watching him make a power play and look for a little revenge. The relationship between he and Gus (Farina) promises to be a good one.
The pilot episode seemed to focus a lot of attention in two places: the shaky relationship between the hardass trainer Escalante and the young jockey Micheaux (and his agent, Rathburn, played by a more stammery than usual Richard Kind), and the gambling quartet that hit it big (very big) on a pick six. It seems to me like there are a lot of people around the track that you don't want to mess with; it also seems like Micheaux has absolutely no sense of this. I'm putting a target on that dude's chest. Can he make it to the end of the season alive? We'll see. As for the gamblers? Gambling can be a dark and dirty pastime and even though this first episode presented the high of winning, there is assuredly going to be a series of lows to follow.
I would be remiss if I didn't mention the moment that was perhaps the most powerful in the entire pilot — Micheaux's second horse breaking a leg in mid race and having to be put down. It was hard to watch and showed the truly ugly side of horse racing. It seemed appropriate given that the showed touched just about every facet of the horse track.
Watching the preview for the remainder of the season, it looks like the show may expand in scope a bit, bringing the characters that were established in the pilot out of the horse track and exploring their lives, vices, and pasts in more depth. Regardless of where the show is headed, I'm on board. With this much talent and the finances that an HBO can provide, how could I not be?
How about you? What did you like? What didn't you like?
Photo Credit: HBO