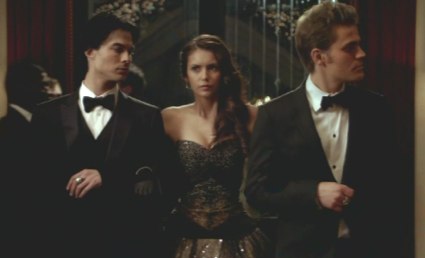 Holy couples alert! Carla's Vampire Diaries' hottest dream couples poll was posted just last week, and already there are some new couples that could be added: Damon and Rebekah, Matt and Rebekah, Elena and Elijah (yes, it's true — Julie Plec was teasing about this in her interview at EW). I'd vote down for anyone with Rebekah, though the idea of Elena and Elijah has me intrigued. How could she lie to his good heart like that? I'm hoping she switched out the champagne or something. …
But I am compelled (pun intended) to discuss The Vampire Diaries' most famous triad, Elena and the Salvatore brothers. Do you like the photo accompanying this post? I had to have that shot because it was one of the most entertaining moments of the episode. The looks on all of their faces were so telling: Elena both pleased and repelled at the same time; Stefan so desperate to appear nonchalant about how he felt about escorting Elena into the ball; and Damon, jealous that he didn't offer his arm first. That one scene says it all.
The dynamics between Stefan and Elena were wonderful tonight, and finally he's starting to creep out of his impervious non-feeling shell. She's got to know he still loves her. Their conversation about trust was such a nice juxtaposition to Damon's controlling nature. Stefan really gets the whole "if you love something, set it free" cliche, while Damon's love for Elena is a liability, as he said. I'm kind of glad he turned to Rebekah; that's going to push Elena away for a bit and that's good, because they really shouldn't be together right now for all the reasons highlighted in this episode. Set her free, Damon, set her free … if she flies back to you … yeah.
Stefan: "If I let myself care, all I feel is pain." Whoa. Pain for all of the hurt he caused Elena, for his bad actions, for saying things he doesn't mean, for pretending he doesn't love Elena. Stefan, Elena will forgive you, but you need to forgive yourself.
Back to Rebekah for a moment … before she was daggered by Elena, I was feeling sympathy toward her, she was just a "human" girl with a broken heart, trying to connect. Now, I feel about her the way I did when she was first introduced: she's a nasty, pig-faced, pouty bitch (you don't want to get on my bad side) and I cannot abide by her being near any of my Mystic Falls boys. She had a moment where she was vulnerable to Matt, for which I am eternally grateful, but unless they start writing her with several more redeeming qualities, I'm not on board with her. And that's OK, because this show has a tendency to make the bad guys turn good (Katherine, Uncle John, Damon, Klaus, etc.) so it's fine with me if one stays bad and unlikable.
OK … rethinking the bad guys turning good thing. What they are really doing is creating three-dimensional characters, another thing for which I am eternally grateful. It's not the same as the leviathans in Supernatural or Glory in Buffy the Vampire Slayer. The Vampire Diaries does not have Big Bads, and I get that. But I still hate Rebekah at the moment.
Caroline is stronger than I gave her credit for being. A few weeks ago, I mentioned that she'd fall for Klaus and his riches and worldliness and promises, but she really held her own with him tonight. If she falls for Klaus, it's going to be for his sensitive, artistic heart and his genuine wooing of her. He was so, so smart not to give her the princess bracelet back. Replacing it with the sketch of her and the horse was a stroke of genius.
This and that:
It's time to discuss theories: who is trying to kill off the council members? The shadowy figure at the hospital makes us all think of Meredith again, doesn't it? Probably it won't be her … but who? Katherine is a theory floating around the interwebs, but I'm not sure what motive she'd have.
We got the explanation about why Bonnie and her mom were the only ones who could open the coffin and let out Esther (because it was their ancestor who preserved Esther's body with a spell), but what this episode didn't do well is make the connection to how Esther tried to kill Elena recently. Esther was the one who made the deal with Vicki that she could go back to the human side if she killed Elena, because Esther didn't want Elena's blood to be around to help Klaus build his hybrid army.
Caroline and Tyler managed to melt my heart with voicemail messages. C'mon!
Esther's spell makes her seem … heartless. I get that she feels responsible for the abominations that are her children, but why does it have to be all of them? Has she really searched for another way, a way that spares Elijah's life?
Photo Credit: The CW