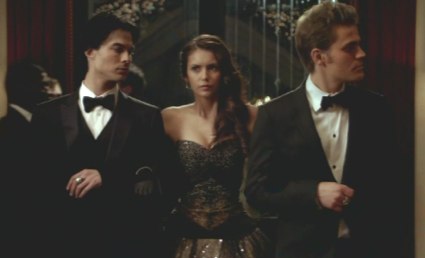 Last Thursday on The Vampire Diaries, we finally met the Original Witch and mother to the Originals, Esther. She decided that she needed to correct the mistake she made so many years ago and kill her vampire children with Elena's help. Tonight, on "All My Children" we find out if her spell to kill them works.
I had the opportunity to interview executive producer, Julie Plec, about tonight's episode and what's coming up for the rest of the season in Mystic Falls. She talked about whether all the Originals drank during the toast (they did!), Stefan's returning humanity, Elena and the Salvatore brothers, Caroline and her love life, the eventual return of both Jeremy and Tyler, and a tease about the major story arcs for the remainder of the season.
Carla: Are the Originals going play a major role in an upcoming arc?
Julie: I can't really speak much past [tonight's episode] because we have advertised that in ["All My Children"] Ester tries to annihilate her entire family, so I'm not going to say much beyond that.
Are we supposed to believe going into the episode that all the Original children drank from their glasses?
Yes. It's not only what we are supposed to believe, but it's what is true. I've seen some people speculating that Elijah didn't drink from the glass. But, no, he did. They drank it alright. They are linked.
Romance seems to be amiss in Mystic Falls right now. All the couples have broken up. Will we be seeing couples get together or will they be staying apart?
There is no happiness in Mudville. No joy in Mudville. Now is not a good time to be in love in Mystic Falls. There's a lot going on. There's been a lot of heartbreak, a lot of chaos, a lot of tragedy. I do feel like as we move forward we are starting to come out the other side in small ways. The rest of the season will not be without some pretty heavy duty, awesome, romantic moments across the board for all couples, even the ones who are maybe struggling a little bit.
Stefan seems to be returning to the Stefan that we used to know and love. Is he still drinking blood or is he coming out the other side?
Going into [tonight's] episode the question is that we actually don't really know where he is at all. He's not really being very forthright about it. Damon has speculated quite a lot about the crumbling of that wall — that switch. Elena seems to have picked up on the fact that Stefan is going out of his way to make her hate him. And, he's trying to disconnect from her and no matter how hard she tries to get him to admit that he's actually feeling and that he's got his humanity back in full working order. He is very much sticking to the story which is that he won't let himself feel, even if he can, because it is too painful.
In the next couple episodes and as we move forward, it's really going to shed a lot of light on Stefan's true state of mind. And, we're going to start to understand what's making him tick a little bit more and then start to see how that impacts his relationship with Damon and his relationship with Elena.
One of my favorite relationship dynamics involves Caroline. She has played the field more than anyone with Matt,Tyler and now possibly Klaus interested in her. Will Caroline now have her own love triangle?
The Caroline character for us is really important because she's a girl, who was kinda weak and insecure and very needy as a human. And, in becoming a vampire actually found her strength as a woman. One of the most fun things to see is how this girl, who used to just want someone to choose her and put her first, now has multiple men who love her deeply. And, Matt loved her at one point. Tyler loves her. And, even Klaus in his early stages has this attraction in her and this interest in her. And, I think the best part of watching Caroline is gonna be how does she respond to finally realizing that she's a desirable human being worthy of this love and what does she want. What does she want now? What will she want later? Where is she going to continue to change and grow? She has a long rich life ahead of her to figure these things out. Hopefully, knock on wood.
I think that what Matt represented to her was the very sweetness of first teenage love. And, what Tyler represents is what two people who went through war together and went through hell and shared very similar dark, deep experiences and came out the other side very bonded, lifelong bonded to each other.
And, what Klaus represents is this world outside of Mystic Falls, that she probably never even thought of, where Miss Mystic Falls pageants, and Saturday night movies, and chili cook-offs and all that mean nothing compared to the beauty of the world that exists out there for her. And, she's really, truly growing up and becoming her own. And, we will start seeing her make decisions about what she wants out of life.
Is Jeremy officially gone or are there plans for him to return?
Jeremy is not officially gone. Jeremy is sitting in Denver with family friends living his life presumably happily. Life gets interrupted. We will be seeing him. We definitely will see him.
What can you tease about the rest of the season?
The rest of the season is centered around some very specific stories. One of which is that we started telling the audience that there is potentially a serial killer in Mystic Falls. The episode where we come back after the next little mini-hiatus really dives right into that mystery and tells us, starts to give us a sense of what's actually going on and who's behind this strange trail of bodies that have been stacking up. That villain and that mystery will be driving us towards the end of the season very hard.
As will the realization amongst Elena, Stefan and Damon, that two brothers in love with the same girl and the girl torn between her feelings for two brothers needs to come to its own head. And, that when all is said and done, Elena is going to have to figure out what it is that she wants.
By the end of the season, we'll have the return of Tyler and Jeremy, who will come back to Mystic Falls and relationships and people that are very different than they left behind. There is going to be a lot of trying to sort out what has become of this town in their absence.
Tune in to see The Vampire Diaries, "All My Children,"  tonight on The CW at 8 pm ET/ 7 pm CT.
[easyazon-image align="none" asin="B002NHIK1E" locale="us" height="120″ src="http://ecx.images-amazon.com/images/I/511K2auOYhL._SL160_.jpg" width="160″]
Photo Credit: The CW