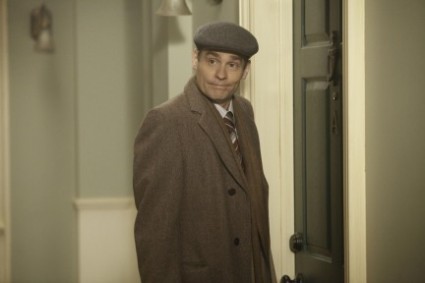 "If it isn't the old ball and Ukraine …" – House
Roughly ten episodes left to wrap this spectacular eight-season series … and we're re-introduced to House's fake wife tonight, who looks like she's here to stay. Where's this storyline going? Will House finally be able to have true happiness without turning into Angelus?
The look on House's face when he walked into his apartment, to Amy Grant and dance aerobics, was pure bliss. House has grown a lot since he last saw Dominika and maybe he is ready to settle down in a mature relationship. It might be a nice ending to the series, a sort of full circle character growth thing. Or should the series end with House as House, the loner, the cynic, the addict …
Speaking of character growth, that makes me think of Taub … and I never thought I'd use that phrase in a sentence. But perhaps Taub finally is growing up, as he said tonight. Or, is his testosterone just lower because he's raising children? He hasn't evolved completely away from his selfish ways, or he wouldn't have offered to split the extra money with House to swipe the job out from under the rest of the team.
This and that:
"I'm guessing your testosterone level is just below Bieber." – House
"So nobody cares about the job until I apply and suddenly it's the last limited edition light saber at Comic-Con." – Park
"In high school, they called me the Book-y Monster." – Park
The suture contest cracked me up for some reason.
Wilson as the fake neighbor was adorable … he's such a bad liar!
So what do you think? Share your thoughts in the comments about how you think House will end, if House can find true happiness or if he'll wind up alone, or something else.
[easyazon-image align="none" asin="B003R0MF3A" locale="us" height="160″ src="http://ecx.images-amazon.com/images/I/51T2Chxr45L._SL160_.jpg" width="122″][easyazon-image align="none" asin="B002JVWR7M" locale="us" height="160″ src="http://ecx.images-amazon.com/images/I/51kc0g5YHbL._SL160_.jpg" width="160″][easyazon-image align="none" asin="B001QE99AQ" locale="us" height="160″ src="http://ecx.images-amazon.com/images/I/5196ET5GmUL._SL160_.jpg" width="118″][easyazon-image align="none" asin="B000FVQLIO" locale="us" height="160″ src="http://ecx.images-amazon.com/images/I/41BEC0RPASL._SL160_.jpg" width="115″]
Photo Credit: Jordin Althaus/FOX