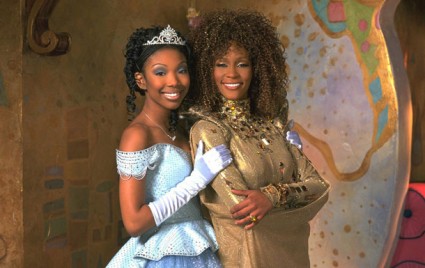 After Whitney Houston's death on the 11th, the CliqueClack staff shared some memories of the singer and her tumultuous life. During that night, I found myself thinking of two memories from my youth. The first was that Whitney Houston was one of the first female singers I had on cassette tapes when I was a young kid … that and Paula Abdul, which I find rather interesting considering both singers' similar struggle with their public image. The other strong memory I have of her was the 1997 ABC television production of Rogers and Hammerstein's Cinderella. It's one of my favorite selections from the long gone Wonderful World of Disney reprisal of the '90s, and I went back and watched it again this week.
Before I get to Houston's performance, a few thoughts on the production as a whole. At the time there was a small stink made about the multicultural cast and how politically correct it was, but when you have such a strong cast who cares if not everyone in Cinderella looks European! We have Veanne Cox and Natalie Desselle as the pricklish wicked stepsisters. Then there's Bernadette Peters doing what she does best (ham!), and I really like how she ends up repulsing Jason Alexander's character with her attempt at charm. More than that, her voice is classic Peters and the production even added in a non-Cinderella Rogers and Hammerstein song for her to sing — of the additions to the soundtrack, it probably blends the least, but it's still Bernadette belting out about how love ruins us all.
While it's a real shame that Victor Garber doesn't even get one song (although this was rectified in Disney's later TV production Annie), I liked his King's chemistry with Whoopi as the Queen. I've never been a huge Whoopi Goldberg fan and some of her schtick gets old here, but for the most part I liked her as a rather manipulative but well-meaning parent and the catalyst for the Ball. She went for the goofy, but also kept some regalness to her voice. I also appreciated that the background dancers and actors were multiethnic across the board, which I don't see as forced as long as the talent is there, which it is especially in the choreography. It reminds more of a theater production than a movie, with an understanding that certain aspects need the suspension of disbelief. Looking at the cast, a point can easily be made that if productions were more interested in finding the right talent for the role instead of the look of the actor, a lot of film casts could be made stronger for it. Just a thought.
The Prince (played by Paolo Montalban) is probably the best part of the film for me because they did everything they could to make him a well-rounded character. Sure, his motivations are practically parallel to Jasmine's from Disney's Aladdin, but he still has a ton more charm and personality than most Disney princes put together. While I think some adaptations of this musical have had the love interests meet before the ball, I really liked how this production borrowed another Rogers song ("The Sweetest Sound" from No Strings) to let Cinderella and the Prince have this very sweet accidental duet at the beginning. Watching it again, it's almost shocking how well this song blends into the story and how much it adds to the story as far as setting up these two characters and their surprisingly similar motivations. After the song, they do actually meet and talk — the Prince flirts with her and Cinderella is more-or-less terrified. There's also a moment when he suggests that a girl should be treated like a princess, but Cinderella corrects him, "No, like a person." And I love that message for young girls … and boys! I also enjoyed that just like no one recognizes Cinderella in formal wear, no one recognizes the Prince on the street either. Not even Cinderella recognizes him at the ball as the same person she met in the street. It's the Clark Kent syndrome and like the multicultural cast, you just go with it.
Sadly, easily the weakest person in the cast is Brandy as Cinderella. With the rest of the cast so spot on good, her hazy speaking voice doesn't really do much for me and her dialogue comes off as too meek even for this obedient character. More than that, her singing voice is the weakest of them all. Even Whoopi's few singing lines are stronger than Brandy's. There are also moments when Brandy's voice is way off key, and this is especially noticeable when she's in duets with the Prince or her Fairy Godmother, who both have strong voices.
Speaking of the fairy Godmother, the story goes that Whitney Houston (who also produced the movie) was supposed to play the title character, but Whitney realized that she was too old to play Cinderella and suggested Brandy. It was only then that ABC suggested Whitney play the Godmother, but this story never quite made sense to me. At this point, Whitney was 33 years old, and I doubt the studios would have thought of her for Cinderella if she hadn't been producing it. That being said, I truly think Houston was a perfect fit for the Fairy Godmother. While so many people have brought up her voice since her death, she also had a real talent for acting and she's thoroughly enjoyable here. She's equal measures sassy, knowing and kind. And having her character expanded works so well in the production — instead of just giving Cinderella the clothes and coach, she comes back a few times to help Cinderella when she's in need.  when she needs her. From reminding Cinderella that the Prince fell in love with her, not the clothes and later giving Cinderella advice when she's about to run away, the Fairy Godmother goes from being simply a gift giver to a real mentor, adding depth to a character who in many adaptations is simply deus ex machina.
What people really remember about this movie is the music by Rogers and Hammerstein. While this isn't their most exulted creation, the songs in Cinderella are some of my personal favorites. "Ten Minutes Ago" might be one of my favorite waltz … I can't not dance when I hear it and hearing the giddiness in Montalban's amazing voice makes you want to fall in love (the fact that this was his biggest role is a crime because he's so talented).  Houston knocks it out of the park with "Impossible," which I always found to be the joyous gem of the whole musical — her voice was just phenomenal. I've talked about the brilliant addition of "The Sweetest Sound" and the enjoyable but perhaps not so harmonious addition of "Falling in Love with Love." The last added song is another just too modern addition called "There's Music in You," which came from not very fairy tale Main Street to Broadway. Like "Falling in Love with Love" put in to give Peters another chance to show her immense talent, the finale song is really there just because we have this stellar voice in Houston and why waste that on just one song? Looking back, Whitney Houston had one of the iconic voices of that decade and is still one of the only singers who can really pull off being an actress. Beyond being a great made-for-TV production, Cinderella is another example of Whitney's immense potential and what could have been.
[easyazon-image align="none" asin="B00004Z4SE" locale="us" height="160″ src="http://ecx.images-amazon.com/images/I/51H1K5GXRBL._SL160_.jpg" width="112″][easyazon-image align="none" asin="B003LFIOX6″ locale="us" height="160″ src="http://ecx.images-amazon.com/images/I/51mzJRSqltL._SL160_.jpg" width="160″]
Photo Credit: Disney