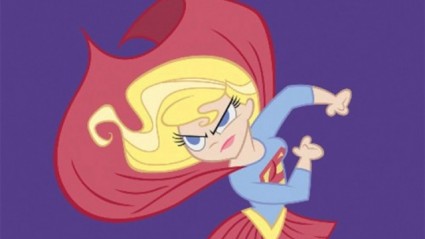 Regular readers of CartoonClack know that I'm a Lauren Faust fan. The woman has helped make some of my favorite cartoons since the '90s, including The Powerpuff Girls, Foster's Home for Imaginary Friends and was the creator of the pop culture phenomenon My Little Pony: Friendship is Magic, which is one of the only cartoons on television to have a cast of almost entirely female characters who feel both complex and relatable to young kids of both genders. When Faust stepped down as full producer this past season (still keeping the consulting producer title) it was disappointing, but I also understood that the reason behind it had to be a new project. That new project is Super Best Friends Forever, a segment in the new hour-long Saturday morning DC Nation lineup on Cartoon Network starting March 3rd.
Earlier this week Warner Brothers released the above picture of Supergirl, who looked to be very much in Faust's art style. I get really excited yesterday when I found this image from a TV Guide article: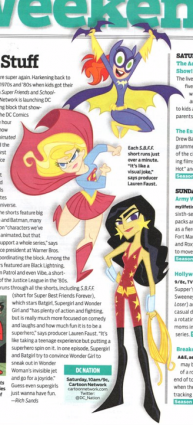 Immediately, the eye is drawn to Wonder Woman  (see update at the bottom), who has a vastly different costume than pretty much every version of her before. CliqueClack has a long history of discussing the Amazonian Princess and her costume, but in case you missed it, I'm a firm supporter of WW having more costumes with straps, especially when she is drawn … voluptuously (running can be tough with a strapless bodice is all I'm saying). So I'm digging the basic shape of the costume as well as the flat boots on all the characters. And considering the character's direct ties to Greek mythology, it is awesome to see her with an olive skin tone instead of the milky white tone often given to Diana — it feels right for the character and a lot of girls from that heritage might see some of her in themselves.
Costume-wise, I really wish there was some kind of blue detail to tie it back to the traditional costume. It doesn't have to be much, perhaps just the upper lining of the boots in a royal blue or a stripe on her bracers. As for the crown … I don't mind the lack of the crown. What I do mind is the stark difference between Wonder Woman's costume design and the other two heroines. I have no problem with artists trying a new spin on a character's design, but both Supergirl and Batgirl are designed so traditionally that Wonder Woman seems like the odd woman out. I still like the redesign, but I almost wish the SBFF design team had made radical changes to the entire trio's look and not just one character.
I also quickly noticed that Batgirl is Pinkie Pie levels of happy in this picture, which is a bit of a surprise along with Supergirl looking like she's about to punch some goon into next week. It seems to me those traits should be switched, although that could be because I'm a huge fan of the kick-ass Barbara Gordon ala Batman: The Animated Series. What's important to remember about this project is that this isn't really a series … its a series of shorts featured in an hour block of DC programming. Faust has said that the shorts will be one or two minutes long with a mix of humor and action. It's kind of brilliant, really — fun vignettes about heroines kicking major butt that are appropriate for kids and enjoyable for families to watch together.  Yesterday I got to talking to fellow Clacker An about the Wonder Woman straight-to-DVD film from a few years ago (keep an eye out for her review of it coming soon), and it occurs to me that Wonder Woman shouldn't be this hard to get on the small screen again. I'm optimistic that despite its saccharine name, Super Best Friends Forever can be a way to introduce these three iconic characters to a bright eyed new generation of fans, both girls and boys. If SBFF has even half the charm of MLP: FIM, then I think it's safe to say Faust will once again gain a fanbase of adults as well.
The rest of the DC Nation bloc is equally intriguing. The main shows of the bloc are the already established Young Justice and Green Lantern series. Along with SBFF, we're going to get a variety of other shorts including a Lego Batman short, a Plastic Man short starring Tom Kenny, a live-action Blue Beetle story, a satirical claymation Batman short from the company behind Wallace and Gromit and more. Oh, did I mention it will also include Teen Titans chibi shorts featuring the voices of the cult cartoon? Yeah, that's going to get some fans excited, I suspect. For better or for worse, DC Nation is using the tried and true tradition of Saturday morning cartoons to build a new generation of fans. As long as the bloc's quality is solid, I really hope they succeed.
UPDATE: Commenter Julio was kind enough to point out that it's actually Wonder Girl in the show, not Wonder Woman, which just goes to show we have Wonder Woman on the brain constantly at CliqueClack. Despite the mistaken identity, I still hold my thoughts on the character design — the costume update is a bold choice, I love her Grecian ethnicity, but it could have used some blue and it does stick out as the odd one out when compared to the other two traditional costumes.
[easyazon-image align="none" asin="B0063FGF14″ locale="us" height="160″ src="http://ecx.images-amazon.com/images/I/51XHHNZ7QWL._SL160_.jpg" width="94″][easyazon-image align="none" asin="B005CHHX0G" locale="us" height="160″ src="http://ecx.images-amazon.com/images/I/51wKISLPwuL._SL160_.jpg" width="113″][easyazon-image align="none" asin="B001LK8SKW" locale="us" height="160″ src="http://ecx.images-amazon.com/images/I/61HlTDoRxDL._SL160_.jpg" width="140″][easyazon-image align="none" asin="B001GU04Y0″ locale="us" height="160″ src="http://ecx.images-amazon.com/images/I/518YYb0MCvL._SL160_.jpg" width="115″][easyazon-image align="none" asin="B000M2E33G" locale="us" height="160″ src="http://ecx.images-amazon.com/images/I/61Kwjd2qEfL._SL160_.jpg" width="131″]
Photo Credit: Warner Bros, TV Guide