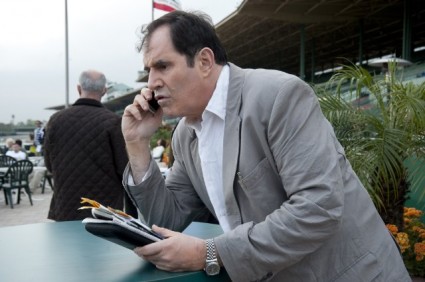 Focus shifted back to the track this week on Luck. Over the past couple episodes we have been a bit removed from the action at the track, instead following Ace as he set his plan in motion and Jerry as he sunk deeper into his own poker problems. This week, though, we returned to the world of horse racing, seeing more tricks from Escalante, a glimpse into Joey's sad personal life, and Ace's dedication to his Gus's horse.
I just don't know what to think about Escalante at this point. Perhaps it would be more accurate to say that I have very ambivalent feelings. I like that he is a conniving schemer; he's fun to watch stomping around the track like he owns the place. There is a likability about him, but he comes off as such an asshole. I really enjoyed watching him spar with Gus and Ace at the beginning of the episode. It wasn't so much of a spar, but I loved seeing him put in his place.
It was nice to see more of the stunning racing shots that Luck has excelled at. They are beyond impressive. This week, it was Pint of Plain that was the focus of the race, with Escalante racing him trying to turn a trick. The horse came up injured, a lost shoe hitting his leg. The concern that Ace showed for the animal was both surprising and touching. I never would have guessed that he would care that much for the horse. I figured the horse was an investment, a part of his plan. If it were only that simple, however, I doubt he would have stayed in the stables overnight, leaving both Gus and Claire.
This week we also got a closer look into Joey, one of the secondary characters that we haven't gotten to know too well up to this point. We learned that he has an ex-wife and a kid, and from the sound of the voicemails that he was leaving her, the situation is not good. It seems like he may be a bit delinquent in his child support and it doesn't seem like his ex even wants to talk to him. At this point Joey looks to be a very sad character.
Slightly (and I mean only a bit slightly) less sad than Joey is Marcus. He is so emotionally crippled that when he realized he actually cared about someone (in this case Jerry) he figured that he must be gay. Hopefully this is the beginning of some growth for the character. I have to say that I am really enjoying the Foray Stables gang. Lonnie and Renzo add a bit of lightness and humor to the show, and with Milch's dark stories, it's badly needed.
Overall, this episode seemed to be a reintroduction of plots. The big plots that we have been following weren't really moved forward. Ace's plot wasn't even mentioned, Smith didn't show up at all, and Jerry's gambling seems to be under control for the moment. However, we did get some new plot lines, with the injured horse, more insight into Marcus's health, and a look at Joey. We'll see how big of a role those stories play as we move forward.
[easyazon-image align="none" asin="B006MYHG6Y" locale="us" height="135″ src="http://ecx.images-amazon.com/images/I/61IU7743GJL._SL160_.jpg" width="160″]
Photo Credit: HBO