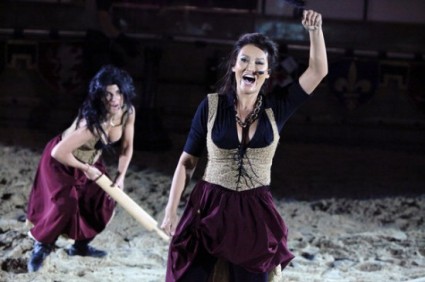 It wasn't far into last night's episode of The Celebrity Apprentice that I arrived at a conundrum: is Victoria Gotti this season's Mama Rivers, or is she NeNe Leakes? Gotti reminds me of Rivers beyond just the frozen mask of a face, but who knew she could be as big a crybaby as the Real Housewife? Either way, do we need another [insert your pick here] this year? Not I.
Last night while announcing the second competition (creating a show for Medieval Times) to the sound of trumpets, Trump made what I marked as his first creepy comment: he pretty much volunteered Dayana Mendoza to ride nude through the streets. Classy.
Anyway, this week's project managers were Penn Jillette and Lisa Lampanelli, whose managerial styles could not be more different. I don't believe that the only way for a woman to succeed in a "man's" world is to act tough. You're telling me that successful stand-ups like Jerry Seinfeld, Ray Romano, and Chris Rock are tough as nails? You could knock them all over with a feather! I'm not sure what Lisa's experience has been, but she's going to be pretty unbearable if what we saw last night is what we'll get for the rest of her time on the show.
The team's shows themselves would have been fun to see in full. The women went with "The Unreal Housewives of Camelot," which was cute despite how sad it is that the real series actually plays to audiences. But fighting over Sir Donald Trump? In the face of that transparent attempt to kiss up I think it's hilarious that Trump didn't even watch either show before the boardroom.
The men went with their talents over any real story line. Still, I thought it was pretty funny that, after Lou Ferrigno defeated Paul Teutul for the hand of Lady DeeDee, he killed himself rather than be with her.
But I figured it'd be the women who were victorious in the end. Who would have imagined that flashing skin wouldn't equal a win? Seemed like a no-brainer at the time, although maybe not in front of the kids. I guess Lisa failed at her personal challenge to keep it a clean show.
What was up with Lou getting so upset over what Penn said? He had to pick someone! Does Lou not understand how the game works? If he's going to be the male NeNe….
After a messier (and less enjoyable) final boardroom than usual, it was Victoria who got cut. I was pleasantly surprised there; we've often seen Trump hold onto train wrecks for weeks past their expiration date just because he figures they'll bring intrigue and ratings. On the other hand, knowing he does that, if he let Victoria go maybe someone else fits that bill. Oh no, it's Aubrey O'Day, isn't it!
Best lines of the night:
The voice over in the opening calling the contestants "Eighteen of the most well-known stars in the business." Hilarious!
Someone referring to The Real Housewives franchise and Jersey Shore as "Iconic." Who writes this stuff?
The Real Housewives was also referred to as "One of the hottest shows on TV," and "The biggest show on television." Aubrey even referenced the show's five million viewers as proof … better not fact check that with Brett
Don Don making a joke about Dee Snider getting fired after breaking his finger: "Good news and bad news; surgery won't be a problem because you won't be here." That Don Don!
Trump telling Snider "Don't listen to the doctor, just let it heal." Definitely don't be taking your medical advice from Donald Trump
Don Don describing the in-fighting on the women's team as things getting "a little girly."
Lisa telling Victoria to "Enjoy the delusion of your life" as they waited to be called back into the boardroom
And for those keeping track, this week's Don Don joke about Papa #2: After thinking that Trump had called Lou "The Incredible Hunk," Don Don asked,  "Freudian slip?" Love that crazy kid!
Photo Credit: NBC