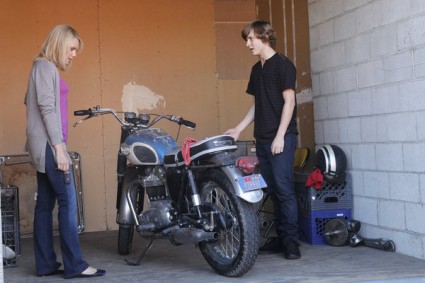 In my review of last week's series premiere episode of Awake, I made a point of mentioning that I was just fine with the show not getting into supernatural territory when it came to explaining Michael's situation. While it's not a supernatural aspect to the show, this week we learn very early on in the series that there's something more to the Britten-family car accident, and people very close to Michael are involved.
Some commenters noted that they were put off by the procedural element to the series. Normally I'd be right there with them, as I'm really not a fan of police procedurals at all. Maybe I'm far too removed from watching the Criminal Minds-like shows of today to judge, but I'm not getting the feeling that this show follows the same sort of ho-hum crimes as the others. The fact that Michael can carry clues and evidence — in his mind — from one reality to another makes for an interesting change, for sure. What will likely get old quick, however, is his partner (played excellently by That '70s Show's Wilmer Valderrama, by the way) and others constantly raising their eyebrows at all of his strange "hunches" that lead him right to the killers. What's next, changing his role to the department's on-site psychic?
Now that we know that the chief (or whoever Laura Innes's character was supposed to be) is behind the accident in some way — at least in the "warm" reality (his wife being alive), will we see that the same sort of scheming is going on in the "cold" reality? Maybe one side has a different motive than the other?
I'm not at all trusting the shrinks Michael has to meet, though those scenes have some of the best dialog. What's definitely odd, though, when you think of it: why does Michael have two different partners, two different shrinks, yet the rest is the same? Is he really assigned to a different kind of psychiatrist based on who he lost? This may wind up being the central "clue" to which one of these worlds is the real one … if there is one that's real.
I'm still attached to this show, though wife Deb thinks it's not long for this world. What do you think so far?
Photo Credit: Peter Hopper Stone/NBC