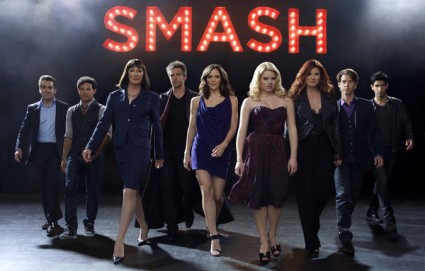 Dear Smash Producers,
The past couple Smash episodes, "Chemistry" and "Let's be Bad," were way better than the "Pilot" and the "Callback." I hope the show continues on this improvement path. As a former theatre geek, I liked the idea of a behind-the-scenes look at Broadway productions from multiple perspectives, including the director, the writer, the song-writer, the lead actress and the chorus actress. However, as Brittany pointed out, the show is basically a soap opera with one-dimensional constructs. And, it shouldn't be.
Luckily, you've started to improve and are making the characters more two-dimensional (one day you'll hit three). Jack Davenport is no longer the only one who rocks the script. Angelica Houston no longer plays a painful-to-watch, wide-eyed innocent. And you balance Ivy's diva-tude through her friends. But, there's even more you can do.
Smash has a unique voice and a new perspective which you're stifling to fit into TV clichés. Because Theresa Rebeck, who wrote the pilot, received a Pulitzer Prize nomination for her co-written play, Omnium Gatherum, I expected to see more behind the scenes knowledge and less Beverly Hills 90210-like constructs.
So, Smash producers, if you care about the thoughts of a no-name blogger who volunteers for local theatre productions, used to attend Broadway plays monthly, and routinely takes dance and acting classes, then here are my suggestions. And, if you don't care? Too bad, read it anyways.
Drop the unrealistic character clichés.
SHOW the characters' performance capabilities.
Play to your actor's comedic strengths.
Inject more witty humor.
Show more character happiness.
Interject more personality into these cardboard cut-outs.
Drop the soap opera aspects.
If you're still interested in reading the explanation behind my suggestions, click  to the next page.
Photo Credit: NBC
This Post Contains Multiple Pages: 1
2