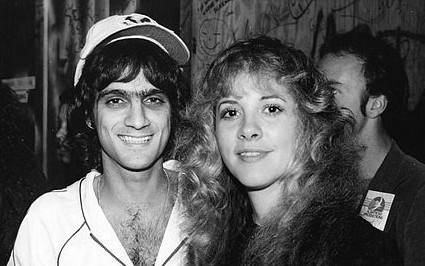 "Sweet dreams. That's the way you think of me." — Jimmy Iovine to Stevie Nicks
"Or … a beautiful nightmare." — Stevie Nicks*
The Idols were given the opportunity to take on their "idols" this week with the legendary Stevie Nicks mentoring. Did Ms. Nicks pull anything out of them to elevate their crafts? By the standing ovations over half the hopefuls received from the judges, I'd say she did pretty damned well:
Colton Dixon "Everything" by Lifehouse
One comment: Dude?  Y o u ' v e  s t a r t e d  t h e  e v e n i n g  o f f  a t  a  s n a i l ' s  p a c e.  Cripes! Slow it down already! Look: I love a good gospel tune just as much as the next guy, but this was not something to begin the show with, a plodding, ponderous tune that practically put everyone to sleep. *yawn*

Skylar Laine "Gunpowder And Lead" by Miranda Lambert
There are times when Skylar is a bit too drawly, too country. Regardless, she's still a firecracker when she's got the right song at her disposal. "Gunpowder And Lead" was the right song at her disposal. The twang came through, but it was toned down in the "up" tempo of the song.
Heejun Han "A Song For You" by Donny Hathaway
What did I tell you? I said Heejun was going to come back this week, do a straight-forward performance and knock it out of the park. Sure enough, that's exactly what he did. Enough said.
Hollie Cavanagh "Jesus Take The Wheel" by Carrie Underwood
Sometimes, projection is the name of the game. And Hollie projected. The ending was flat, but she churned out a worthy version of Underwood's tune. It played to her strengths and worked.
DeAndre Brackensick "Sometimes I Cry" by Eric Benet
DeAndrea? Just like the song you sang, sometimes I cry, too. But what I really want to say is this: DeAndre has the worst falsetto ever. But … it's not the worst. Not by a long shot. Neither is it anything remotely near the best. What needs to happen is he simply must stop working it into his repertoire. Because it's painful. Painful to watch, painful to listen to. And the judges aren't helping by praising him left and right when he does. What are they mesmerized by when he attempts those falsettos? "Like Prince?" Give me a break. I don't know what needs to happen to get this kid in the Bottom 3 and make it stick to the point of his elimination, but it will definitely start when the judges discontinue praising his efforts.
Jessica Sanchez "Sweet Dreams" by Beyonce
She did well, better than DeAndre before her. But here's the thing: Good as everyone said she was? She didn't get the standing ovation that he did. Think about that …
Phillip Phillips  "Still Rainin'" by Johnny Lang
I do love Johnny Lang. So when I heard Phillip2 was about to launch into this one, I admit to having perked up. Phil had a blast putting this song out there, but I think he had more fun doing it than everyone had hearing it. Still, a solid effort.
Joshua Ledet "Without You" by Maria Carey
Joshua pulled this tune off pretty damned well. He roamed the range and hit the notes and emoted to the point of tears, so much so he could barely finish it. I respect that from a kid like him, where you get so lost in the music that the music takes over in unexpected ways. Again, it wasn't "When A Man Loves A Woman" but it wasn't shabby by any means.
Elise Testone "Whole Lotta Love" by Led Zeppelin
Elise shot this one out like she meant it. She was another performer getting lost in the music this evening and giving it all she had to fine effect. Nice version of a tough Zeppelin tune.
Please: Can we send DeAndre and his curls home now?
Notes:
I was thrilled to see Randy wearing a string of Jujubes around his neck to compliment the fake Mardi Gras beads. Depeche Mode, dawg.
What were those moves that DeAndre attempted during the trio medley with Heejun and Joshua on "Rock With You" … ?!?!? They were comically spazz-tastic. And level with me: Is there any doubt the guy has more misses than hits when it comes to his performances? For him, this trio of abbreviated tunes buried him further. The guy just cannot hold quarter when it counts. Please … let's get rid of him.
And! If there's one thing these little medleys do is showcase the better singers from the poorer ones. Case in point: Skylar. On the Madonna tunes with Jessica and Hollie, both girls beat the pants off her when it came to matching up their voices. Fireplug that she is, she can't leap that hurdle set for her. She's nowhere near as bad as DeAndre, but her time is short on the show.
Quotes:
"Sweet dreams. That's the way you think of me." — Jimmy Iovine to Stevie Nicks
"Or … a beautiful nightmare." — Stevie Nicks
"I think tonight was like a magical mystery tour of over the top talent and emotion." — Steven Tyler
* (I cold resist. *heheheheh* Ain't I a stinker?)
[easyazon-image align="none" asin="B000000QFU" locale="us" height="159″ src="http://ecx.images-amazon.com/images/I/51M88H5VEPL._SL160_.jpg" width="160″] [easyazon-image align="none" asin="B0026EVGPG" locale="us" height="160″ src="http://ecx.images-amazon.com/images/I/51y4BjV%2Bs0L._SL160_.jpg" width="160″]
Photo Credit: Chris Walter