TV on DVD – Torchwood, Misfits, and Nip/Tuck
Releases for next Tuesday include 'Nip/Tuck', 'Torchwood', 'Misfits', 'Masterpiece', 'Commander', 'Bob', 'Fresh Prince', '3rd Rock', 'That '70s Show', 'Roseanna', 'Three Stooges', 'Eagleheart', 'Elmo', 'Danny Phantom', 'Jonny Quest', and 'Black Butler'.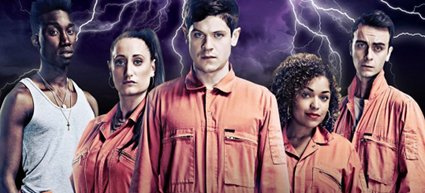 Apologies for being a day late with the list for next week's TV on DVD releases. My rather flimsy excuse is that this weekend is the Emerald City Comicon. And who can resist the siren's call of the Damsels of Dorkington? Not me, certainly. Adding that to my regular schedule of theatre shows has stretched me a bit thin. But the good news is that the post is done, and I now have an illustration of Xev of B3K on top of my motorcycle helmet thanks to Jam from Wasted Talent. We all win!
As for the releases, it is a bit of a slow week filled with re-issues and Blu-ray editions. Because of that, there isn't really a pick of the week from this group. Instead, I'm going off the board for a deep-discount oldie. Right now, you can get the complete series set of Kings for $9.08 (I'm looking at you, Ivey). That's a great deal.  It's a fantastic cast, with gorgeous sets, in a truly original series. Unfortunately, it seems that the show was in the wrong place, at the wrong time, on the wrong channel. If you missed it when it originally aired on NBC, now is a great time to catch up.
Photo Credit: ais