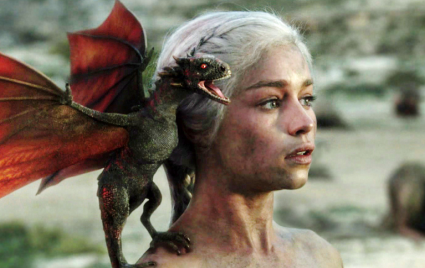 It's Monday, and I'm annoyed.
Not because of a Garfield-like hatred of Mondays, or because it's back to the working week, but because Monday is the day after a new episode of Game of Thrones airs, and that annoys me. I don't hate the show, and I don't hate people who are fans of it, for the most part. But there is something, more than any other show that I've encountered, that makes a normally non-annoying person ten times more annoying just by virtue of discussing said show. The why of this eluded me for a year before I figured it out — Game of Thrones fans, you all kind of say the same things. A lot. Over and over and over again. And frankly, it's really super-annoying. To everyone. So you need to sit down, take note, and, for the good of everyone you love, please never say the following things again:

1. "Don't spoil me for the next episode, you guys!"
Do you guys all remember when the Harry Potter movies came out, you all had that one friend who got really, really mad if you discussed anything that happened in the movies because you would  "spoil" them? Wasn't that friend the worst? Didn't you want to shake them and because oh my god, it was a book first, and that book's been out for, like, five years now, and it's really not your job to police yourself if someone hadn't read it? Because this is approximately how I feel every time I see a spoiler column that's all "you'll never believe what happens next on Game of Thrones!" or there's the inevitable bitchfest that you're caught in the middle of because someone "spoiled" an episode that person hadn't seen yet. It's a book! And it's been out now for a while! Fun fact, did you know that If you go to Wikipedia at any point in time, you are going to get "spoiled"? Because you will.
Also, while I'm at it, I feel like I should tell you all that Darth Vader is Luke's father, Rosebud is a sled, Soylent Green is people, and Brad Pitt and Edward Norton in Fight Club? Same guy.
2. "Wasn't it so sad when [character] died?"

No. No it wasn't.
Okay, here's something you need to know about Game of Thrones: everyone, and I mean everyone, dies.  I'm not sure what the "game" in Game of Thrones is, but I'm pretty sure it's the same "game" as The Hunger Games. Everyone who goes into it is going to die. Only unlike The Hunger Games, where it's just the kids dying — when I say everybody, I mean everybody. George R. R. Martin is your emotionally abusive boyfriend. He will systematically kill the things you love. Stop loving them. You are essentially loving the victim of the week you see die within the first five minutes of every crime drama, only George R. R. Martin makes those first five minutes last for a while, because he's a sadistic jerk who likes to make you cry. And I can hear, like, five of you going "wait, there are people George R. R. Martin hasn't killed yet!" Congrats. Technically, you are right. For now, anyway. But he also hasn't finished the book series, and you know by the next book, I'm probably going to be right.
Don't cry. Your tears give him power.

3. "[Character A] is so much better than [Character B]!"

There are very few instances in which character wars are ever in any way not stupid and come down to a matter of personal preference, and so I generally avoid them. But there is no instance that is quite as stupid as when it happens with Game of Thrones characters, because the thesis of Game of Thrones is not just "everybody dies," but "everybody is a terrible person, and then they die in a terrible way."
I think the worst instance I ever saw of this was a giant spat between a bunch of Cersei fans and a bunch of Tyrion fans. Cersei was an incestuous bitch! Tyrion was a womanizer! Cersei pushed a kid out a window! Tyrion raped a lady! You don't like Cersei because you're sexist! You don't like Tyrion because you're anti-dwarfist! (Is there a PC term for that?) A bunch of other stuff I don't remember because it was all really stupid!
Are we really arguing over who sucks less, someone in an incestuous relationship who attempts to murder a child versus a philanderer and rapist? Can we not all admit that it's going to come down to a stupid reason? I'll give you an example — you know why I liked Cersei less than I liked Tyrion when I was still trying to watch Game of Thrones? Because Cersei killed puppies. Maybe that makes me sexist. Or species-ist. Or maybe everyone on this show is just terrible, morally speaking.
4. "Game of Thrones is the greatest show ever!"
You guys all realize you're watching Ye Olde Days of Our Lives but with better production values and actors who can actually, like, act and stuff, right?
Okay, cool. Just checking.
Photo Credit: HBO