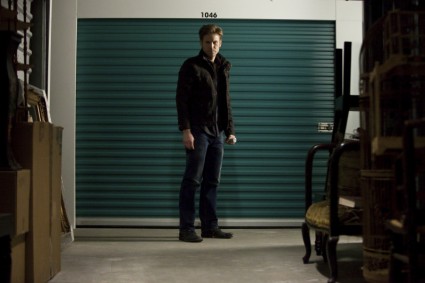 "You know what else was her call? Everything bad ever." – Damon, on Elena making the choice to give Klaus's body to the other originals
All I can think about is my season one mantra: no one is safe on The Vampire Diaries. No one. How will we ever see Alaric and Tyler again in their original forms? I can't see how it would be possible. So will Matt Davis become a recurring character in Alaric (and go off and do his other CW pilot) and be Bobby Singer to Jeremy's Sam and Dean? I'm glad that psycho Alaric seems to be gone, but not thrilled that Alaric is dead … but I'd be haunted by him any day.
I rather like the possibilities we have now that Klaus is in Tyler's body. I'm not sure if that means Tyler is gone, that he died when Klaus's body did, or if he's still in there somewhere, but it certainly brings Klaus and Caroline as a power couple back to the forefront for next season. I think this will be a fun storyline to ride out.
I'm on the fence about the flashbacks. I liked the juxtaposition of Elena's parents and Matt with the two accidents at the end, but I'm not really sure the flashbacks woven throughout the episode were written tightly enough to really make them worthwhile. I want to love the fact that Elena and Damon met, but I don't think it was significant enough. And I'm not really sure why we had to see Elena's and Matt's relationship ending to understand that one of Elena's relationships needed to. I mostly found them distracting because I wanted to be in where the action was.
But on that note, I have a prediction of what will happen. You know how everything about you is enhanced when you're a vampire? Elena's feelings for Damon are going to heighten, and big. Now that she knows she's got all the time in the world, she'll not feel an urgent need to be with Stefan right away. Or at least she'll try her little heart out and not be able to fight her feelings for Damon. So yes, we got to see Elena choose Stefan over Damon tonight, but it's not over, not by a longshot.
I love that so much happened on tonight's season three finale, and there isn't anything I'm disappointed about. I am anxious to see how everything unfolds in the beautifully set-up season four. Another round goes to Julie Plec and company!
This and that:
That was one seriously slutty cheerleading outfit Elena was sporting in the flashbacks.
I'm not sure that Alaric could exercise his guardian rights on Elena now that's she's 18, but that's just a small nitpick.
Huge props to Michael Trevino for nailing every mannerism of Klaus. I didn't even question for one heartbeat what had happened, because Tyler was so obviously Klaus, down to the head-tilt. Well done.
Looks like we'll still have Rebekah and Elijah around for season four.
Damon on the phone, while Elena was making the decision about whether to give Klaus's body to Elijah was hilarious.
Anyone else wanting to give Caroline the biggest hug? I adore it when Candice Accola has the opportunity to weep with abandon … she also nailed it tonight.
Photo Credit: Annette Brown/The CW