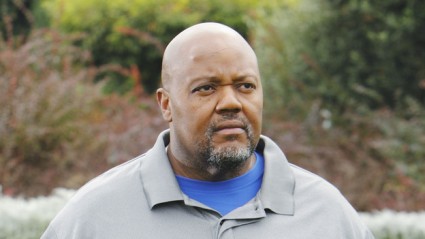 The second season of Extreme Makeover: Weight Loss Edition kicks off its second season in epic fashion with the story of Tony, a 398 lb 49-year-old who desperately wants to lose 200 lbs by his 50th birthday … and by extending the show to a whopping two hours. Now, if you followed my posts about the show last season, you'll know I had some complaints mostly focusing on the short-shrift each hour-long episode gave to the subject and their weight loss routine. Hearing that the show was now going to be doubled in length, I approached the season premiere with mixed feelings — would it truly give us a more in-depth look at what it takes to lose half your body weight over the course of a year, or would it simply end up being unnecessary padding and product placement (a fate that has pretty much kept me away from the producers' other weight loss show, The Biggest Loser, for the last couple of seasons)?
I'm happy to say that the first episode of the season pretty much delivered on all counts. We still don't get to know much about the exercise regimen or diet, but we know enough. What the main focus is now is the journey. And what a journey Tony took over the course of his year, starting with his weigh in at 398 lbs. After a week at the California Health & Longevity Institute (Tony learned that he consumed about 2000 calories a day just from his sugary drinks), Tony returned to his home with trainer Chris Powell in tow, living with Tony and his girlfriend for the first 90 days. I have to say that Tony has been one of the most dedicated subjects from day one that we've seen on the show, and even Chris was surprised at just how focused he was. But that focus came with a price.
Setting Tony a goal of 100 lbs in 90 days, he forged ahead but put everything else behind him. For several weeks, Tony did not allow cameras to film him because of the stress the program was putting on his relationship, and he not only had that on his mind, but the precarious medical condition of his son Marcus, who has been living with cerebral palsy for 28 years and took a turn for the worse right before Tony's first day of working out, was also weighing on his mind. But he persevered, and with the incentive of a dream honeymoon placed before him if he hit his goal, Tony managed to lose 104 lbs in 3 months.
For Phase 2, Chris gave Tony a goal of 60 lbs and left him on his own. But Tony seemed to disappear for weeks (which is odd since I assumed a camera crew was constantly following his every move), and after about a month, we learned that he broke up with his unsupportive girlfriend and was living out of his car. Chris found himself in the awkward position of helping Tony move the gym equipment that had been installed in his house out while the girlfriend looked on. It was interesting to see just how uncomfortable Chris was, quickly picking up weights and walking out the door, keeping his head down the entire time. But even during all of the stressful times, Tony managed to keep up his exercise routine, prepared his meals at friends' homes, and got the good news that his son had improved. But it all still took a toll on his weight loss, losing only 29 lbs at the six month weigh in, bringing him down to 265 lbs.
Phase 3 required Tony to lose as much as he could so that he would be eligible for the excess skin removal surgery, but it got dramatic again as his son Marcus passed away suddenly. Chris surprised Tony (who had surprised his family with his weight loss since he was not allowed to send them pictures previously) at the funeral, worried that this would have a tremendous impact on his psyche, but was encouraged that Tony had a new, supportive girlfriend. After no contact again for a couple of weeks, Tony finally reached out to Chris for professional help to deal with his emotional baggage, and that flipped his switch. He got pack on track with his program, lost another 39 lbs, got the surgery, and celebrated his 50th birthday by weighing in at 198 lbs! It truly was an amazing transformation and a heartbreaking and heart-lifting journey, and reaffirmed my devotion to this show.
I love that we follow just one person, and kicking off the season with someone as likable and determined as Tony certainly helps. Last season we had a couple of people who didn't embrace the program, so while that almost becomes a turn-off to watching the show, it's also good that they don't shy away from the real life drama that people go through when trying to make such a monumental change to their lives. And after a moment last year when Chris Powell verbally smacked down someone heckling his client, I called him my new hero. With this episode, he has just endeared himself to me even more. When he learned Tony was homeless, he offered to let Tony live at his home in Arizona until he could get back on his feet. I can't imagine any other host making that offer. And when we were left wondering what happened to the "dream honeymoon" Tony won at the end of Phase 1, Chris gave Tony a check for the amount of the trip to help him get a new place. I'm sure that was a conversation that took place behind the scenes with the producers, but it was still a magnificent gesture from everyone involved. The new, expanded format now allows us to really dig deep into the subject's life, allows us to see more of Chris and his concern for the person, and makes for a better viewing experience all around. It could begin to get routine and drag on way too long, especially if the subject of the episode has no drive, but for now I am very happy to see Chris back on the scene helping and inspiring not only his subject, but the viewers at home as well.
[easyazon-image align="none" asin="B0058ZPNUY" locale="us" height="160″ src="http://ecx.images-amazon.com/images/I/51Qqwy-ZgIL._SL160_.jpg" width="118″] [easyazon-image align="none" asin="1401324452″ locale="us" height="160″ src="http://ecx.images-amazon.com/images/I/51BPajz7iRL._SL160_.jpg" width="117″]
Photo Credit: ABC