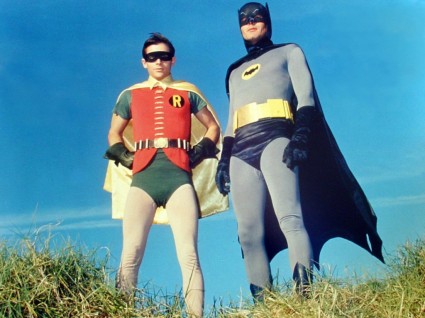 There was a lot of excitement late last week when Warner Brothers made a major announcement regarding the classic Batman TV series:
"For the first time in 40 years, Warner Bros. Consumer Products will be able to use the likeness of the show's stars, including Adam West, Burt Ward, Cesar Romero and Burgess Meredith, on everything from apparel to toys, home goods, publishing and promotions.
WBCP will introduce the new "Batman" product opportunities to potential partners and retailers at next week's Licensing Expo, running June 12-14 in Las Vegas. First products will launch in the spring.
Retailers had requested a larger merchandise line tied to the show over the years, but studio arm had previously been able to use only the series' logo, POW!-packed animated opening sequence and the Batmobile for product, not the actors, due to rights issues as the series was produced by 20th Century Fox. As a result, studio was limited to a small line of T-shirts and a die-cast Batmobile made by Mattel."
This got a lot of Bat-fans thinking that the long-awaited home video release of the series is finally in the making. Unfortunately, that is not the case … at least not at the moment. A representative from Warner Brothers spoke with the guys at TVShowsonDVD.com, saying the original press release pertained only to the products mentioned and not a potential video release. So what's the hold up on this show?
Well, like many classic shows not yet on DVD (think The Wonder Years, China Beach, and season two and beyond of WKRP in Cincinnati and Malcolm in the Middle), there are licensing issues that have to be dealt with. In the case of most shows, it all centers around music rights which are prohibitively expensive (modern shows — and movies — negotiate these rights in advance now, but back when these older shows were produced, no one thought of home video). Twentieth Century Fox tried to release the first season of WKRP in Cincinnati with almost all of the music replaced. The fans were not happy and follow up sets have not been planned. Sony had to replace the opening theme song for Married With Children after already releasing a few seasons of the show on DVD because the rights holder wanted more cash. The Wonder Years and China Beach are so tied to the music of their eras that it will take a small miracle to ever see these shows on DVD (but you can stream The Wonder Years from Amazon Prime and Netflix!) So far, Universal has been one of the few studios to pony up the money to retain the original music for the DVD releases of Miami Vice and the first five seasons of Saturday Night Live.
But you may ask how this all pertains to Batman. The show didn't use a lot of pop music from the time, so what is so difficult about getting the show on DVD? It's much more complicated than music for this show. DC Comics was where Batman began, long before Warner Brothers owned the company. Twentieth Century Fox produced the TV series between 1966 and 1968 (Warners purchased DC in 1969). So, now we have two studios fighting over who gets what piece of the pie … but it doesn't end there. So many hands were involved in the show, so many gadgets were created, and so many big name guest stars made appearances, and it all comes down to who gets what from the profits. Not only that, but there were many crossover appearances by characters from other TV shows at the time such as The Green Hornet, Lurch from The Addams Family, and Colonel Klink from Hogan's Heroes, and the rights holders to those characters need to be compensated as well. The Batman TV series is tangled in a gigantic web of copyright issues that, unfortunately, remain a huge stumbling block to getting the show on home video. Let's hope they can get things worked out before it's too late for the stars to bring some commentary tracks to the episodes. (The show is currently airing on The Hub, and by my calculations they have aired all but four episodes which probably have their own rights issues. Catch it there before their broadcast rights expire.)
Of course, San Diego Comic-Con is coming up, so watch Warners and Fox make a surprise announcement there that renders all of this moot!
[easyazon-image align="none" asin="B0016MOWOQ" locale="us" height="160″ src="http://ecx.images-amazon.com/images/I/41xRWVH-n5L._SL160_.jpg" width="128″] [easyazon-image align="none" asin="B005SH5CA8″ locale="us" height="120″ src="http://ecx.images-amazon.com/images/I/51IHtcCM5LL._SL160_.jpg" width="160″] [easyazon-image align="none" asin="B000V3JGIS" locale="us" height="160″ src="http://ecx.images-amazon.com/images/I/41vilOjuS4L._SL160_.jpg" width="112″] [easyazon-image align="none" asin="B000MXPE6U" locale="us" height="160″ src="http://ecx.images-amazon.com/images/I/51JIhF7Y-cL._SL160_.jpg" width="124″]
[easyazon-image align="none" asin="B00005JLEY" locale="us" height="160″ src="http://ecx.images-amazon.com/images/I/512GQ253P3L._SL160_.jpg" width="120″] [easyazon-image align="none" asin="B000JLQPYK" locale="us" height="160″ src="http://ecx.images-amazon.com/images/I/41KpDaBKt8L._SL160_.jpg" width="118″] [easyazon-image align="none" asin="B005CGI4EG" locale="us" height="160″ src="http://ecx.images-amazon.com/images/I/51v48qvgobL._SL160_.jpg" width="134″] [easyazon-image align="none" asin="B00006G8J7″ locale="us" height="160″ src="http://ecx.images-amazon.com/images/I/51BBVW8M32L._SL160_.jpg" width="110″]