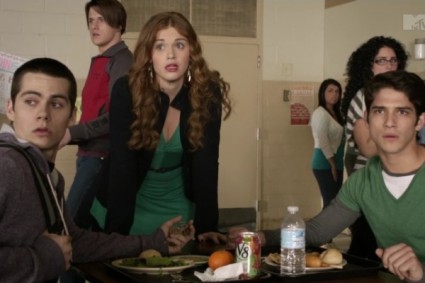 While the build-up of Derek building an army was promising, and Lydia's hallucinations of Peter — at school and under the ice — as well as Scott's ability to feel Erica's epileptic seizure coming on, not to mention Jackson's newfound ability to lift a car, my complaints still seemed amplified with this installment:
Why did Alison's dad have her kidnapped to start her training? That just seemed so random to me — cheap thrills or cheap plot?
When will the dialogue improve? It was painful in many parts of the episode, but for some reason it bothered my when Stiles was meeting with Boyd to get the rink keys.
The fact that Jackson thinks Lydia made him immune is weak to me, unless there's something I'm not remembering and taking into account from last season. They haven't had sex since Lydia's attack and Jackson's bite, so I'm just not following. To me, the most likely explanation is that Jackson has wolf's bane in his system from when Derek scratched him. Though the black ooze in the shower with Lydia and the back goo oozing from Jackson'd orifices … that can't be coincidence. I'm hoping they'll make this a more powerful piece of the mythology and not leave it vague.
I hope we see a little more of Erica than just as Derek's minion, because she reminds me of Buffy's Faith, when she was first introduced in season three. She could have potential if they properly develop her character.
Now, for a little speculation and a little hope. I have faith that Teen Wolf will soar to awesome heights this season. I foresee Derek's Alpha team vs. Scott's team, complete with Boyd and Alison, vs. Gerard and the other crazy hunters. Will three teams fight, or will some alliances be formed?
The fact that Alison's dad made it clear that the men are the soldiers and the women are the leaders has got to have some meaning. I'm hoping that Alison ends up making the decision that Scott's team is the one to fight alongside and her father just has to go along with it. One thing I am liking is the darker side to Teen Wolf this season. I hope they can allow it to blossom without cheapening it with the cheese factor.
Photo Credit: MTV