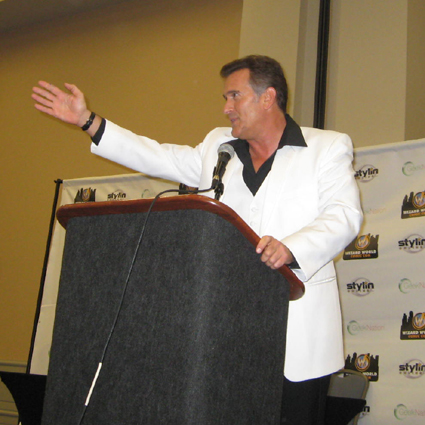 Bruce Campbell is like Mr. Toad's Wild Ride. He's the acid trip you took in high school. He's the unboxed Cat in the Hat. Heck, he's the mad hatter without a hat. He's a whirling dervish that never stops whirling. Unstopped and uncorked, he's the madcap genie out of the bottle. If you ever have the chance to attend a Bruce Campbell panel, don't ask questions — just GO!
Last year, I assumed I'd watch Bruce answer Burn Notice questions, reminisce on The Adventures of Brisco County, Jr. and remember Jack of All Trades. That didn't happen. Instead I witnessed madcap insanity from start to finish, while I kept thinking, "Can he really say that to a fan? Isn't he worried about bad press?" The response? Yes, he can. And, no, he doesn't. This time, I stopped worrying and enjoyed the ride.
This year's panel proved even better because we didn't have a moderator, we didn't have an introduction and we didn't line up for the mike. Bruce just hopped on stage, did his usual Evil Dead tattoo warmup and then kicked off the party. Surprisingly, chaos never ensued. From start to finish, the panel ran incredibly smoothly where everyone already knew what to do. Audience members raised their hands from their seats, didn't fight for Bruce's attention, spoke from the diaphragm and only offered interesting questions that either directly (or vaguely) applied to the topic at hand. It felt like a college lecture with a madcap professor who couldn't stop flirting with the coeds.
Last year, Bruce slightly channeled a 1980s insult comic. This year, he channeled a 1970s gameshow host. Who knows what he'll embody next year? What remains the same is his everlasting showmanship and utter comfort with himself. Admittedly, he seemed both less contemptuous of his audience this year and more comfortable letting his id spring free. You haven't lived until you see him hit on, fight with and then knight a female version of his Evil Dead self with a light saber. DO check out the video below. TRUST me.
Do you know why I love Bruce? Because he's honest. Deliberately so. Ruthlessly so. Last year, he said he wouldn't make an Evil Dead sequel because no one wants to see a middle-aged Ash. I assumed that meant we wouldn't see ANY type of Evil Dead sequel, PERIOD. But, he didn't say that. Hence, the currently-in-production, Evil Dead remake. Unlike the Evil Dead musical (which Bruce never worked on, but encouraged people to support), he provided casting input for the remake and reviews the dailies.
I like that he unabashedly mocked his old show, Jack of All Trades, pointing out it started at the low level most syndicated series hit after 7-8 years of waning popularity. While I never saw Jack of All Trades as analogous to the other '90s-'00 golden-age syndicated series of Xena, Hercules, Cleopatra 2525, Relic Hunter or Queen of Swords, I still stayed up late to catch each episode when it aired.
He joked they were forced to ad lib on Hercules and Xena. But, he didn't "dick" with the "money"-making Coen Brothers scripts, because they took the time to write them (his words, not mine). Did he ever get confused when filming overlapping shows? Hell, yes. When guest-starring on both Hercules and Lois and Clark simultaneously in the '90s, he admitted calling Dean Cain Hercules and Kevin Sorbo Superman.
Another good thing about Bruce? He doesn't coddle kids. Last year, I called Nicholas Brendon a saint when adorable kid after adorable kid asked him the same question: "What's your favorite episode?" I expected the same from Bruce. I didn't get it. When a kid asked an incredibly obvious question, Bruce didn't hold back the heckles. Was it good-natured? Yes. But, Bruce Campbell is either THE best or the worst father ever, because he doesn't handle children with kid gloves.
You can never tell if Bruce is serious, blatantly lying for entertainment value or spinning a yarn. He's the person who can dress up the truth to sound like a lie — even when it isn't. He described an early job driving a cab for a chef on a nightly basis who smelled like old lettuce while calling the Old Spice commercial his favorite acting gig.
Although he remained coy about the Oz: The Great and Powerful prequel, claiming Disney would sue him, he mentioned filming in Michigan and sharing scenes with James Franco.
Photo Credit: An Nicholson
This Post Contains Multiple Pages: 1
2